England's special wildlife sites show dramatic improvement
Natural England is responsible for monitoring the condition of SSSI land in England.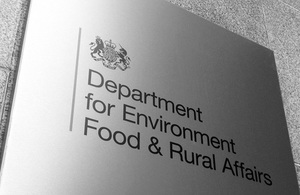 Over 95 per cent of England's finest wildlife and geological sites, covering more than one million hectares of countryside, are now in favourable or recovering condition, Environment Secretary Caroline Spelman announced today.
This is a major improvement since 2003, when only 57 per cent of these Sites of Special Scientific Interest (SSSI) were in the same condition. It follows seven years of hard work by Defra, in conjunction with Natural England, the Environment Agency, the Forestry Commission and partners from the public, private and voluntary sectors.
Welcoming the achievement, Environment Secretary Caroline Spelman said:
"These sites really deserve the title of special. They include spectacular and beautiful habitats from flower-rich meadows to remote upland peat bogs and give protection to wildlife that might not otherwise survive.
"This fantastic achievement is testimony to the hard work of everyone involved. People really do care about and value our natural environment and together we can safeguard our remaining natural heritage for future generations."
As well as protecting wildlife, these sites also give opportunities for rural businesses, space for recreation and scientific research, and safeguard essential services such as clean water, flood management, carbon storage, pollination and food production.
Helen Phillips, Chief Executive of Natural England said:
"The turnaround in the fortunes of England's SSSIs is one of the great conservation success stories of recent decades and owes much to the tireless efforts of an army of conservationists, landowners and volunteers. Thanks to their efforts, a host of rare species from sand lizards to golden plovers now have a greater prospect of flourishing; while much loved landscapes, such as the New Forest and the Yorkshire Dales, face a more secure future."
Some of the sites that have shown improvement and the habitats and species that have benefited include:
In the South East - 28,500 hectares of land in the New Forest (98.6 per cent of the total SSSI area) is now in favourable or recovering condition. This is Europe's largest area of lowland heath and provides a home to Dartford warblers, nightjars, smooth snakes and numerous bat species.
In the North East - 4,480 hectares of Bowes Moor in Country Durham (100% of the SSSI area) has been transformed through a partnership between landowners, commoners and conservationists, helping to increase species such as merlin, golden plover and black grouse.
In the East of England - Environmentally sensitive farming practices have helped maintain 13,400 hectares of the Breckland Farmland in Norfolk (100% of the SSSI area), providing a haven for one of  England's rarest birds, the stone curlew.
In the South East - Conservation volunteers have helped restore 2.4 hectares of Hogley Bog (100% of the SSSI area), a tiny area of wetland near the centre of Oxford, providing a home for rare plants like the grass of Parnassus and the tiny creeping bog pimpernel.
In the West Midlands - Conservation work at Wren's Nest caverns in the centre of Dudley, has helped preserve a world famous treasure trove of fossils.
Notes
Natural England is responsible for the day-to-day implementation of the Sites of Special Scientific Interest (SSSI) legislation and for assessing and monitoring the condition of SSSI land in England.
Favourable condition means that special habitats and features are in a healthy state and are being conserved for the future by appropriate management.
Recovering (or improving) condition means that all necessary management measures are in place to address the reasons for unfavourable condition; if these measures are sustained, the site will become favourable over time.
A full inventory for each site is now publically available, showing the reasons why it was designated, the management requirements needed to maintain its special features, and an up-to-date assessment of the condition of the site.
Further information about SSSI can be found on the Natural England website at:  www.sssi.naturalengland.org.uk/Special/sssi/index.cfm
Published 30 December 2010