Press release
England has the potential to have the lowest disease burden in the world
A new PHE led study ranks the diseases and risks that cause death and disability in England.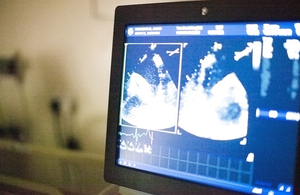 For the first time, a new PHE-led study published in The Lancet ranks the diseases and risk factors that cause death and disability in England compared with other high-income countries. It reveals the nation's potential to have the lowest total disease burden (years of life lost to death and lived with disability) in the world.
Between 1990 and 2013, life expectancy in England increased by 5.4 years: one of the biggest increases compared with the other EU15+ countries (from 75.9 years in 1990 to 81.3 years in 2013).
This increase was mainly because of falls in the death rate from cardiovascular disease, stroke, chronic obstructive pulmonary disease and some cancers (with progress partly offset by increased death rates from liver disease).
South East England has the lowest disease burden when compared to high-income countries, and England as a whole performs better than the EU15+ † average.
Known potentially preventable risk factors taken together explain 40% of ill health in England. If you examine the impact of specific risks on the overall disease burden, unhealthy diet and tobacco are the two largest contributors ‡ (diet accounts for 10.8% of total disease burden and tobacco 10.7%).
Improvements in life expectancy haven't been matched by improvements in levels of ill-health. So, as a population, we're living longer but spending more years in ill-health, often with a combination of conditions, some of which would have previously been fatal. For example, with diabetes, the years of life lost to the disease have decreased by 56% but years living with disability have increased by over 75%.
Professor John Newton, Chief Knowledge Officer, Public Health England, said:
The findings show the huge opportunity for preventive public health. If levels of health in the worst performing regions in England matched the best performing ones, England would have one of the lowest burdens of disease of any developed country.

And even though there have been big falls in premature mortality, the top causes of early deaths in England and in each English region are still heart disease, stroke, lung cancer and chronic obstructive pulmonary disease, which to a greater or lesser extent, are attributable to preventable risk factors.
Dr Adam Briggs, co-author and Wellcome Trust Research Training Fellow, University of Oxford, said:
Life expectancy is increasing across the country but large inequalities still remain. Life expectancy in 2013 for those living in the most deprived areas was still lower than those in less deprived areas enjoyed in 1990. How deprived you are is the key driver of these differences rather than where you live and therefore deprivation and its causes need to be tackled wherever they occur.
Professor Kevin Fenton, Director of Health and Wellbeing, Public Health England, said:
People are living longer, but they are living longer with disability, which will require more integrated models of care spanning health and social services. The other important implication for health services is that it is likely that up to 40% of its workload is due to potentially preventable risk factors. This reaffirms the importance of people taking positive steps today, liking eating well and stopping smoking, to improve their health in the long term.
† The first 15 European Union members apart from the UK (Austria, Belgium, Denmark, Finland, France, Germany, Greece, Ireland, Italy, Luxembourg, Netherlands, Portugal, Spain, Sweden), plus Australia, Canada, Norway, and the United States of America [EU15+].
‡ For women in England, tobacco is now the number one risk factor and has overtaken unhealthy diets and high blood pressure since 1990.
Public Health England press office
Background
PHE is lead author on the paper: Changes in health in England with analysis by English region and areas of deprivation: findings of the Global Burden of Disease Study 2013, which has been published by The Lancet today (15 September 2015).

Global Burden of Disease (GBD) is a world-wide project to bring together the widest possible range of knowledge about health and its determinants. It involves more than 1,000 researchers in over 100 countries, and pulls together data on premature death and disability from more than 300 diseases and injuries in 188 countries, by age and sex, from 1990 to the present. This enables meaningful comparisons between countries and over time and quantifies the contributions of different diseases and risk factors to overall burden on population http://www.healthdata.org/gbd
For the paper, results of the GBD 2013 were examined for England, the UK, and 18 other comparator nations (first 15 European Union members apart from the UK, plus Australia, Canada, Norway, and the United States of America [EU15+]). We analysed data on mortality, causes of death, years of life lost (YLLs), years lived with a disability (YLDs), and disability-adjusted life-years (DALYs; sum of YLLs and YLDs). Estimates were also created for 9 English regions and by national deprivation quintiles within each region.
The paper's analysis provides estimates of causes of death and ill-health for 306 conditions and 79 risk factors, and risk factors represents a major update and improvement in the evidence base.
An earlier GBD study used data from 2010 to compare the UK with a group of other countries. The new paper reported here uses data up to 2013 and focusses on England. Responsibility for health and public health has been devolved to the constituent countries of the UK since 1998 so this is a more meaningful geographical level of analysis.
For Professor John Newton (lead author) please contact Dominic Stanley or Dawn Tennant at Public Health England: phe-pressoffice@phe.gov.uk, telephone 020 7654 8400, out of hours telephone 020 8200 4400.
Public Health England exists to protect and improve the nation's health and wellbeing, and reduce health inequalities. It does this through world-class science, knowledge and intelligence, advocacy, partnerships and the delivery of specialist public health services. PHE is an operationally autonomous executive agency of the Department of Health. Follow us on Twitter: @PHE_uk and Facebook: www.facebook.com/PublicHealthEngland.
Published 15 September 2015