Press release
Energy for Growth - issuing of the Power Purchase Agreement pilot
The Energy for Growth plan has reached the procurement stage and suppliers are invited to put forward bids.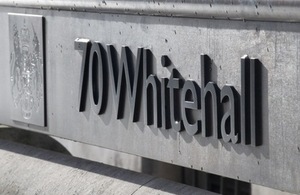 The launch of government's Energy for Growth initiative in December 2012 is ground-breaking in its aim to maximise opportunities for economic growth in the energy market by using the HMG's position as the UK's largest energy consumer. The Cabinet Office and Government Procurement Service (GPS) are now progressing to the procurement stage.
From today, energy suppliers will be able to put forward bids to provide 2% of GPS' overall energy demand for up to 24 years in the initial pilot Power Purchase Agreement (PPA).
This pilot will be the first element of a strategy that will aim to diversify up to 50% of HMG's energy demand to deliver savings. PPAs are an innovative approach to energy procurement and can promote growth by offering a long-term contract and giving projects the confidence to attract investment, therefore appealing to new projects which can bank on the guaranteed business. This will be the UK's most significant public sector PPA to date.
Minister for the Cabinet Office, Francis Maude said:
Energy for Growth is yet another step by this government to be more innovative and effective in delivering savings, whilst maximising the growth potential from every taxpayer pound we do spend.

We've shown that government can make substantial commercial savings by acting as a single customer and buying smarter. And this pilot procurement will take our approach further - by using our combined buying power to unlock investment and promote real competition in the UK renewable energy market, we could also potentially see lower energy bills for everyone.
The OJEU information for this procurement can be viewed here, and is available to non-intermittent renewable generators.
The first contract is expected to be awarded in April 2013.
Published 28 January 2013