Ending the Ofsted annual children's services assessment
If passed, new legislation will mean that local authority children's services will no longer have to be assessed by Ofsted.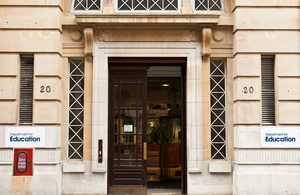 As part of wider changes to local authority accountability arrangements across government, intended to reduce bureaucratic burdens and central government control of the activities of local government, the Parliamentary Under-Secretary of State for Children and Families, Tim Loughton, announced, in December 2010, the government's intention to remove the requirement on Ofsted to conduct annual assessments of local authority children's services, "as soon as a suitable legislative opportunity can be identified".
Across local authorities there has been a concern that the children's services assessment is essentially a bureaucratic exercise that adds little understanding of children's services in an area over and above the individual inspections that underlie it. It is seen to make little if any contribution t to driving service improvement. Ending the annual children's services assessment will create cost savings to Ofsted of approximately £1.6 million per year.
Following an 8-week targeted consultation exercise, the government has today laid the draft Legislative Reform (Annual Review of Local Authorities) Order before Parliament. Subject to Parliamentary approval, the government expects to effect the repeal of the legislation requiring annual children's services assessments to be conducted - section 138 of the Education and Inspections Act 2006 - before Parliament breaks for summer recess on 17 July.
Further information
Ofsted currently carries out a review every year of the overall performance of each local authority in England as regards the delivery of children's services. It then awards each authority a performance rating in respect of the matters reviewed. The duty requiring this is set out in the Education and Inspections Act 2006. The annual children's services assessment provides, for each top tier local authority in England, a summary of the outcomes of the inspections of services and settings carried out by Ofsted during the year and an analysis of the performance data related to each authority. Ratings are awarded on a four-point scale:
(1) performs poorly
(2) performs adequately
(3) performs well
(4) performs excellently
The 2011 the ratings were:
performing poorly - 15 local authorities
performing adequately - 33 local authorities
performing well - 76 local authorities
performs excellently - 28 local authorities
DfE media enquiries
Central newsdesk - for journalists 020 7783 8300
Published 10 May 2012