Press release
Ending the last 'closed shop'
Restricted recruitment in the public sector is the last 'closed shop': a relic in a digital age when jobs can be advertised online easily and cheaply.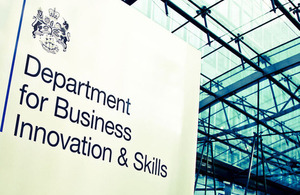 The government wants to open up the public sector, to ensure that the best people can be hired for the job from the voluntary, private and wider public sectors.
Business Secretary Sajid Javid has launched a call for evidence to assess restricted and internal recruitment practices in the public sector.
Sajid Javid said:
Restricted recruitment in the public sector is the last closed shop and it's time it was brought into the 21st century.

Everyone should have the opportunity to apply for these good and well-paid jobs in the public sector and it's unfair that a large number of people currently can't.
Reining back restrictive recruitment practices
Closed shops in Britain were made illegal following trade union legislation in 1990 and 1992: outlawing the practice of employers agreeing only to hire union members, and where employers had to remain union members in order to remain employed. Yet it is clear that semi-restrictive recruitment practices linger across the public sector.
This is unfair not just to those who work in the voluntary and private sector, but also to workers in other parts of the public sector – they are unable to work in restricted sectors too.
The government's call for evidence intends to shine the light of transparency into such practices, as the first step to stopping them – by changing the law if necessary.
Government opening up the public sector
As part of the wider transparency agenda, opening up Whitehall recruitment was in the 2010 Coalition Agreement. Organisations like the Department for Communities and Local Government have already moved to full open recruitment.
From April 2014 to the beginning of March 2015, DCLG made 136 appointments:
30% were filled internally
30% were filled by applicants from other departments
40% were filled by external candidates
This provides a good balance between promoting hard working staff internally, tapping into the expertise of the civil service, and benefiting from the skills and experience of those from the wider public, voluntary and private sector.
But there is more to do across Whitehall and the public sector.
Published 25 January 2016