World news story
End Sexual Violence in Conflict – Oslo Event
On 11 June, we hosted a film screening and panel debate at Litteraturhuset as part of the Global Summit to End Sexual Violence in Conflict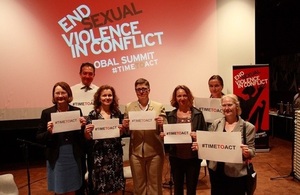 On Wednesday, 11 June, the British Embassy together with the Norwegian Ministry of Foreign Affairs hosted the Oslo leg of the Global Summit to End Sexual Violence in Conflict. The Summit brought together representatives from governments, civil society, the military and judiciary to commit to concrete action that will help remove wartime rape and sexual violence from the world's arsenal of cruelty.
In Oslo, Foreign Minister Børge Brende was our keynote speaker, and the event attracted an audience of about 100 representatives from Government, media, NGOs, think tanks, embassies and youth groups. Brende voiced support for the new International Protocol on Documentation and Evidence, which will help end impunity by helping prosecutor convict offenders. He also highlighted Norway's strong track record on women's issues through their development programmes, and called for the sexual violence perspective to be integrated into broader development and security policy initiatives. Following the Oslo event, Brende travelled to the UK to join other world leaders at the London Summit, chaired by Foreign Secretary William Hague and UN Special Envoy, Angelina Jolie.
The event also featured a premiere screening of the film "Mission Rape – A Tool of War", a harrowing documentary about Bosnian women's continuing fight for justice after atrocities suffered in the conflict some twenty years ago. Our event then concluded with a panel discussion including Secretary General at the Ministry of Foreign Affairs, Bente Angell-Hansen; Anthony Smith, International Relations Director at the UK Department for International Development; Vibeke Risa from the Norwegian Refugee Council; Director Gro Lindstad from the Forum for Women and Development; and Torunn Tryggestad from the Peace Research Institute Oslo. Key points emerging from the discussion were:
The need for more research into the causes and effects of Sexual Violence in Conflict
The importance of documentation (implementing the Protocol will be essential)
The importance of involving women at the table from the start of peace processes
The need to work with security forces – state militaries are often the most likely perpetrators
Rape often continues into the post-conflict phase, when international attention has moved on
Economic empowerment is key: it helps women rebuild their lives
At the end of the day, men are the perpetrators, so they need to be a big part of the solution
The international momentum on these issues will not end with the closing of the Summit. Over the coming months and years, we will all work to make sure we now turn into practical implementation the many commitments and the tremendous support demonstrated both in London and across the globe.
The Statement of Action agreed by world leaders at the Summit is available here
William Hague's closing remarks
Angelina Jolie's closing remarks
Published 18 June 2014