Encouraging meeting on sheep EID
Discussing a range of issues facing the industry in implementing EU rules on individually tracing sheep.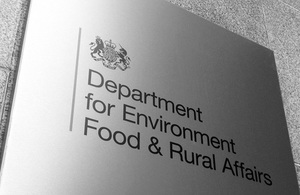 UK agriculture ministers were encouraged by EU Commissioner Dalli's commitment to pragmatism in implementing EU rules on Electronic Identification of Sheep (EID) in the UK after meeting today.
Commissioner Dalli met with the UK's farming and rural affairs ministers Jim Paice, Michelle Gildernew, Elin Jones and Richard Lochhead to discuss a range of issues facing the industry in implementing EU rules on individually tracing sheep.
Agriculture Minister Jim Paice said:
"We need to make sure sheep EID works on the ground, and I'm encouraged by the Commissioner's commitment to help us achieve this.
"We discussed a range of issues. The Commissioner will now work with Agriculture Commissioner Ciolos on guidelines on cross-compliance reductions in connection with the functioning of the system.
"The Commissioner has also agreed to consider looking at extending the deadline for the requirement to individually record movements of older sheep. We're grateful for his willingness to take a pragmatic approach."
Minister Michelle Gildernew, Stormont Executive Minister for Agriculture and Rural Development said:
"This was a very useful meeting which gave me an important opportunity to update Commissioner Dalli on our position regarding sheep EID. I have made the Commission very aware of the hard work our sheep industry has done to implement the electronic tagging of sheep. I also stressed our determination to ensure the full traceability of each individual sheep and goat.
"I believe that it is very important to protect the fairness of both the sheep EID regime and the cross-compliance system. We should not penalise farmers who have not themselves been at fault.''
Wales' Rural Affairs Minister, Elin Jones, said:
"I am pleased Commissioner Dalli recognised the difficulties the Regulation causes to Welsh sheep farmers and the efforts we have made to implement it.
"I welcome the offer of guidelines on when cross compliance penalties should be applied, as it is important farmers are not penalised as a result of failings in technology. I was also encouraged that the Commission will consider delaying the date from which individual recording of older sheep applies."
Cabinet Secretary for Rural Affairs and the Environment Richard Lochhead said:
"I welcome the fact that Commissioner Dalli has agreed to speak with Commissioner Ciolos and produce guidance for Scotland and the rest of the UK which will reassure farmers that cross-compliance issues related to EID regulations will be proportionate.
"The Commissioner was very receptive of how improvements can be secured under some of the challenging circumstances faced by our farmers.
"Our sheep farmers are valued. We don't want to undermine what they do by bureaucracy and we want a common sense approach."
Under the current rules, farmers may have their sheep electronically read at approved third party central point recording centres, such as markets and abattoirs, instead of on farms. This flexibility is estimated to save the industry in the UK between £7 million and £20 million.
The requirement for individually recording movements of older sheep, born before 31 December 2009, is scheduled to come into force on 31 December 2011.
Currently all sheep born after 31 December 2009 and retained for further breeding need to be individually electronically identified.
The Commissioner has also agreed to respond on the issue of extending the slaughter derogation to cross-border trade once he has obtained a legal opinion.
UK officials will now work with the industry to put forward more detail on these proposals as soon as practicable.
Published 19 November 2010