Empty homes reach all time low
The number of empty homes is now at its lowest level since records began.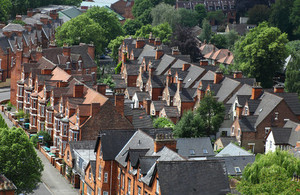 reversal of downward trend in numbers of owner occupied households
record drop in number of empty homes
New figures show that the number of empty homes is now at its lowest level since records began. This equates to a drop of over a third from 318,642 in 2004 to 203,596 in 2015.
Figures also show an increase in the number of owner-occupied homes in the past year, after 7 years of decline, starting in 2007.
The downward trend in ownership is continuing to level out after a fall from a peak of 69.5% in 2002 to 62.5% in 2015 and 62.8% in 2014.
And the government has got the country building again – with the number of new homes up by a quarter in the last year alone, the highest annual percentage increase in net additional homes for 28 years.
Housing and Planning Minister Brandon Lewis said:
We are turning around the housing market and making sure the best use is made of all housing including empty homes.

We are very clear that a house should be a home which is why we have taken action to stop homes being bought up and left as an empty investment.

And we've taking forward the boldest ambition for housing in a generation, doubling the budget so we can help a million more people into homeownership, while delivering a bigger, and better private rental sector.
The government has introduced a number of measures to get homes back into use, that have stood empty for years.
These include:
rewarding councils for bringing empty homes back in to use through the New Homes Bonus – since April 2011, councils have been allocated over £4.846 billion for providing new homes
providing over 704,000 additional homes, bringing over 106,000 empty homes will be back into use and providng 271,000 affordable homes
giving councils the power to increase Council Tax on empty properties
introducing charges on certain ownership to prevent residential property being held through companies left empty
ensuring Capital Gains Tax is due on gains made by foreign owners who sell residential property here in the UK (much of which is left empty); this means the same rules apply to residents and non-residents
The government is determined to provide more homes to give hard-working families across the country the changes to realise their ambition of home ownership.
It has committed more than £20 billion over the next 5 years to help meet its ambition to provide 1 million new homes.
This is on top of Right to Buy being extended to 1.3 million people, shared ownership properties being made available to a much larger number of people and 200,000 Starter Homes being provided at a minimum 20% discount for first time buyers.
Further information
Since 2010 this government has provided 704,000 additional homes and 291,000 people have been helped into homeownership through government backed schemes.
See the dwelling stock estimates in England: 2015.
Office address and general enquiries
2 Marsham Street
London
SW1P 4DF
If your enquiry is related to COVID-19 please check our guidance page first before you contact us - https://www.gov.uk/guidance/coronavirus-covid-19-guidance-for-local-government.

If you still need to contact us please use the contact form above to get in touch, because of coronavirus (COVID-19). If you send it by post it will not receive a reply within normal timescale.
Published 28 April 2016