Press release
Empty homes reach 10-year low
The numbers of empty properties in England have fallen to a 10-year low, new figures show.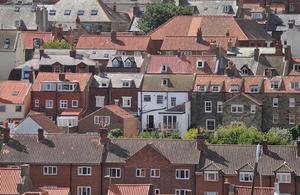 Communities Secretary Eric Pickles welcomed the news as "a significant achievement".
The latest data shows that as of October 2013, there were 635,127 empty homes across the country, down by around a fifth since 2009 and their lowest level since 2004.
But Mr Pickles especially welcomed the dramatic drop in the numbers of long-term vacant properties, which fell by around a third over the past 4 years, from 316,251 in 2009 to 216,050 in 2013.
Turning empty properties into homes
Delivering more homes is a key part of the government's long-term economic plan and with this in mind ministers have introduced a wide range of measures to bring back into use homes that have stood empty and unused for years.
This includes:
a £235 million empty homes funding programme, which will deliver 12,000 homes from empty properties by March 2015 – with apprenticeships on offer to make this happen

rewarding councils for bringing empty homes back into use through the New Homes Bonus – since April 2011, councils have been allocated over £2.2 billion for delivering new homes, including bringing over 93,000 empty homes back into use, which they can then use to benefit the wider community

giving councils new powers to remove Council Tax subsidies to empty homes, and use the funds to keep the overall rate of Council Tax down

cancelling the Pathfinder programme which sought to demolish homes, instead focusing on refurbishment and getting empty homes into use
Communities Secretary Eric Pickles said:
Empty properties can blight entire neighbourhoods, becoming a magnet for antisocial behaviour when they should be family homes.

So I'm pleased to see that the efforts we've made to bring these homes back into use have helped bring the numbers down to a 10-year low, with the number of long-term empty homes down by around a third since 2009.

This is on top of the wider efforts we're making to get the country building, with 420,000 new homes delivered since 2010 – including 170,000 affordable homes.
Communities Minister Stephen Williams said:
I'm delighted to see the numbers of empty homes in this country at their lowest for a decade.

This is a significant achievement, which is not only delivering more homes but also creating more jobs and apprenticeships, leading to both a stronger economy and a fairer society as these properties are renovated.

I look forward to seeing how councils and communities build on this success in the coming year.
Further Information
New figures on empty homes.
Since 2010, the government has delivered 420,000 new homes, including 170,000 affordable homes. This includes:
£19.5 billion public and private investment in an Affordable Homes Programme from 2010, with a further £23 billion investment planned from 2015 to deliver 165,000 new affordable homes

the Help to Buy scheme, which is so far helping 28,000 households buy newly-built homes with a fraction of the deposit they would normally require – leading developers have said they will build more as a direct result of this increased demand

the £1 billion Build to Rent scheme, to deliver newly-built homes specifically for private rent. Work is already underway on developments in Southampton and Manchester through this heavily-oversubscribed scheme, which is well on track to have work underway on up to 10,000 new homes by 2015
Photo above by stevekeiretsu on Flickr. Used under Creative Commons.
Office address and general enquiries
2 Marsham Street
London
SW1P 4DF
Contact form http://forms.communiti...
General enquiries: please use this number if you are a member of the public 030 3444 0000
Published 8 April 2014