Press release
Employment reaches another record high
The employment rate is at a record high of 75.3% with a record 32.14 million people in work.
Official employment figures released today (13 September 2017) show that there are now a record number of people in work, the highest level since records began in 1971.
The figures, released by the Office of National Statistics, also show that unemployment is at 4.3%, the lowest since 1975.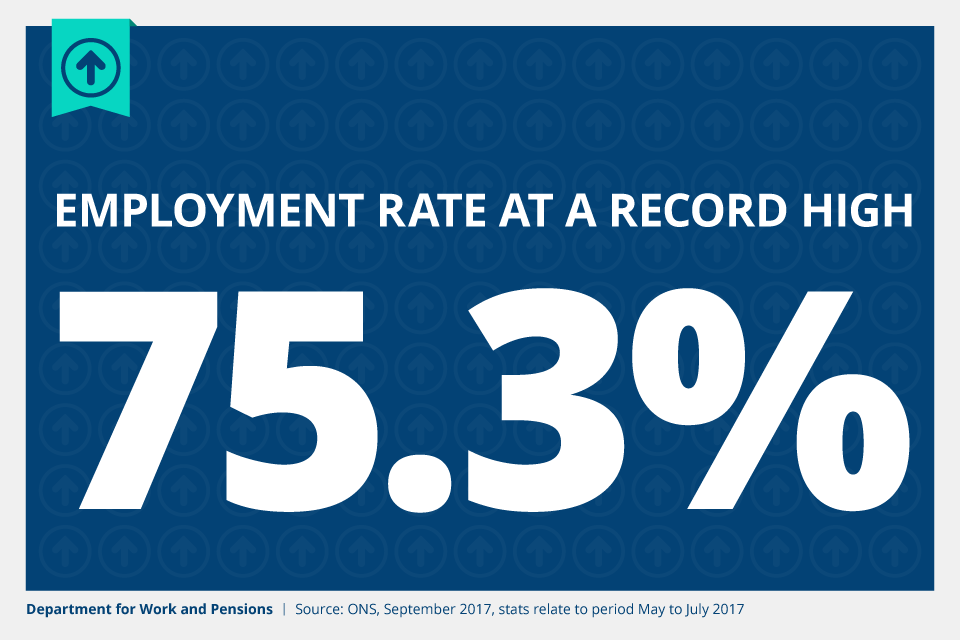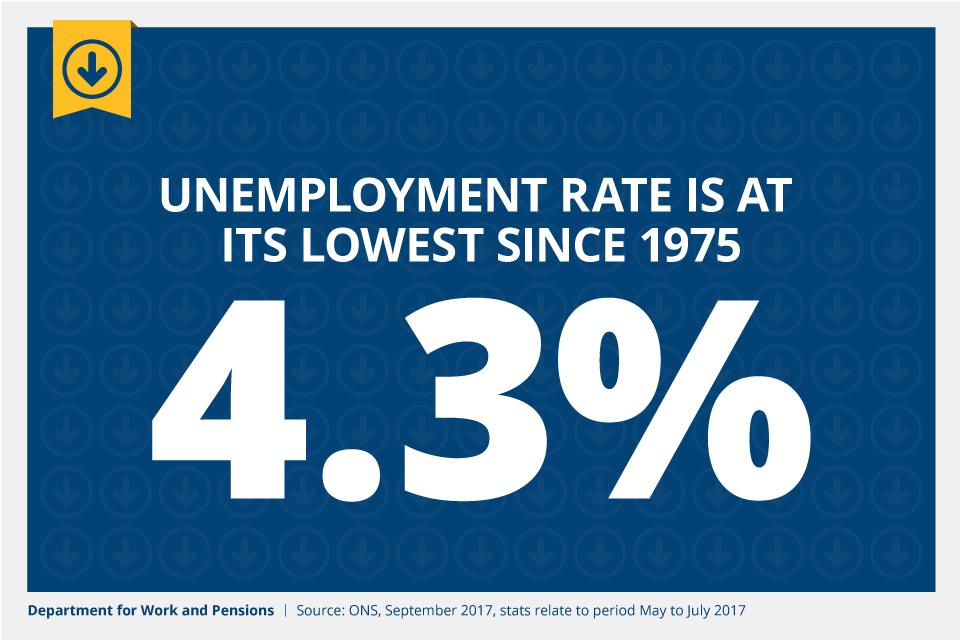 The increase is due to people of all ages finding work, with employment levels of those over 50 in work reaching a record high, youth unemployment falling by over 40% since 2010 and the proportion of young people who are unemployed and not in full time education dropping below 5% for the first time.
These record figures have been driven by increases in full-time and permanent work. In the last year there has been a shift from part-time to full-time employment, 20,000 fewer people relying on zero hour contracts and full-time and permanent employment are both at a record high.
Minister for Employment, Damian Hinds said:
The strength of the economy is helping people of all ages find work, from someone starting their first job after leaving education, to those who might be starting a new career later in life.

Britain's employment success is largely about a growth in full-time and permanent work, as employers invest in Britain and offer quality job opportunities that put more money into people's pockets.

But there is more to do, and we will continue to build on our achievements through our employment programmes and the work of Jobcentre Plus.
Today's figures also show:
the employment rate is at a record high of 75.3%, with 32.14 million people now in work – an increase of 379,000 on the year
there are a near record 774,000 vacancies in the economy at any one time

the number of people in employment has increased by over 3 million since 2010

the female employment rate is at a record high of 70.8%, with over 15.1 million women in work
the UK has the third highest employment rate in the G7
Separate figures show 1.4 million claims have been made to Universal Credit. Of the 590,000 people now on Universal Credit, 39% are in work.
Contact Press Office
Press Office
Caxton House
Tothill Street
London
SW1H 9NA
London Press Office (national media and London area enquiries only – not questions about personal claims) 020 3267 5144
Out-of-hours (journalists only) 07623 928 975
England and Wales (local media enquiries) 029 20 586 then 097 or 098 or 099
Scotland (local media enquiries) 0131 310 1122
Follow DWP on:
Published 13 September 2017