Emergency shelter for families in flood-hit Pakistan
Shelter kits have reached flood-hit areas in Pakistan to help families who lost their homes in this year's monsoon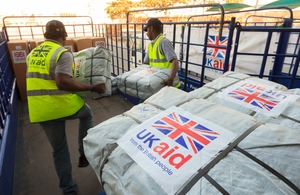 British-funded shelter kits from our warehouse in Dubai have now reached flood-hit areas in Pakistan to help the thousands of families who have lost their homes in this year's monsoon season.
The new aid includes emergency shelter for 105,000 people, 24,000 buckets and 57,000 blankets - essential items that will help families to get through the colder nights ahead.
The items are expected to be distributed across the affected district of Sindh from tomorrow, helping thousands of people to cope with the latest onset of floods.
To date, the total UK Government response to the 2011 floods includes:
Emergency shelter items for more than half a million people
Permanent flood resistant shelters for 52,500 and 10,000 iron rooftops
10,000 tarpaulin sheets, 164,000 blankets and 2,000 sleeping mats
5,000 hygiene kits, 10,000 jerry cans and 24,000 buckets
5,000 kerosene stoves, 5,000 kitchen sets and 20,000 solar lamps
International Development Secretary Andrew Mitchell said:
Britain led the way in responding to the devastating floods last year, swiftly providing emergency shelter and medical assistance for millions of people while rebuilding damaged houses and bridges.

In anticipation of further floods this year, we positioned  tents and emergency items across Pakistan, which tens of thousands of people are now benefitting from. We have also provided additional shelter, blankets and flood resistant homes.

Our support will continue into 2012, reflecting the deep friendship and longstanding bond between the UK and Pakistan.
The UK is committed to being better prepared to deal with future disasters, and build up the resilience of local communities. This is in line with the Humanitarian Emergency Response Review, published by Lord Ashdown earlier this year.
Ahead of this year's monsoon season, Britain funded training for rural communities on how to prepare for and cope with flooding, as well as supporting cash for work projects to repair flood protection barriers, irrigation channels and other community infrastructure. This has helped to reduce vulnerability to future disasters and at the same time provides opportunities for people to earn money by creating new jobs.
Published 9 November 2011