Eliminating interference with TV signals from 4G mobile services
A £180 million help scheme will fund solutions to TV signal interference resulting from new mobile services.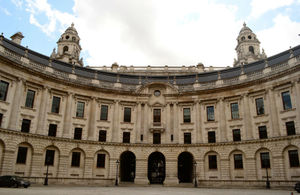 Communications Minister Ed Vaizey announced today that mobile phone operators are expected to begin introducing the next generation of mobile services (4G) next year once Ofcom has auctioned spectrum, which is the airwaves used for transmitting information like TV and mobile signals.
Some households will get interference to their digital terrestrial TV (DTT, or Freeview) reception when part of the spectrum being auctioned is used for 4G services.
Affected homes will be provided with solutions to this interference through a help scheme that will be funded and run by the mobile operators that buy the spectrum.
Mr Vaizey said: "More and more of us are using smartphones and tablets to access the Internet.  Releasing more spectrum is essential to enable industry to meet this growing demand.
"Next generation mobile services are essential for economic growth.  They will bring an estimated benefit of £2-3 billion to the UK economy.
"There will be some interference when 4G services are rolled-out but we will have the solutions in place to eliminate the disruption to television viewers."
The vast majority of affected households will simply need to fit their TV with a filter that will be supplied by the help scheme.  Extra support to fit the filters will be available to the over 75s and people who are registered disabled.
A number of households may need to change platform, which could mean shifting from DTT to cable or satellite viewing, and this will be funded by the help scheme.
For a small number of homes, the provision of filters or shifting to another platform will not solve the interference. In these cases, up to £10,000 per household will be used to find a solution.
The help scheme will be overseen by a company which will be managed by mobile operators that buy the spectrum. Ofcom will shortly consult on exactly how the help scheme should work.
Notes to Editors
Ofcom are currently consulting on the rules covering the spectrum auction. The consultation closes on March 22. The auction is due to be held in the fourth quarter of this year.

Ofcom has already carried out a consultation on interference with DTT signals.  Their second consultation is due to be published shortly.
Press Enquiries: 020 7211 2210
Out of hours telephone pager no: 07699 751153
Public Enquiries: 020 7211 6000
Published 21 February 2012