News story
Electric trains to boost rail services in the north west
Deal with Northern Rail will provide up to 3,000 extra seats during busiest times of travel.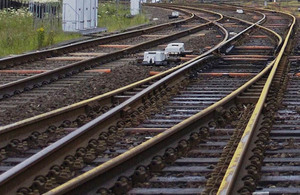 More trains will come to the north west following a deal between the Department for Transport and Northern Rail to introduce electric trains on the network.
Two 4-carriage electric trains will start running between Liverpool and Manchester via Newton le Willows from December 2014, providing quicker, cleaner and more reliable journeys for passengers. By the end of 2015 an additional 40 carriages will be in service, providing up to 3,000 extra seats during the busiest times of travel.
Thanks to the introduction of these trains, a diesel train will be freed up to strengthen services to Bolton from December 2014, providing a further 200 places during peak travel. A second train will also be released to run on the newly reopened Todmorden Curve.
Rail Minister Stephen Hammond said:
This is great news for passengers and underlines our commitment to transform rail travel in the north. These electric trains will mean cleaner, quicker and more reliable journeys for thousands more passengers between Manchester and Liverpool, driving forward the economies of these two great cities.
In addition, the deal will provide extra capacity to Bolton and see a passenger train running on the Todmorden Curve for the first time in more than 40 years. I look forward to further improvements as more trains are introduced.
The government is undertaking an ambitious programme of investment in the north with the £400 million North West Electrification Programme and the £600 million Northern Hub scheme. This will improve connections, passenger services and help stimulate the local economy.
Northern Rail is expected to meet improved passenger satisfaction, reliability and punctuality targets as part of a new 22-month franchise announced by the Department last week.
Rail media enquiries
Press enquiries 020 7944 3021
Out of hours 020 7944 4292
Switchboard 0300 330 3000
Published 2 April 2014