News story
Eid al-Adha 2013: message from Nick Clegg
A video message from Deputy Prime Minister Nick Clegg to mark Eid al-Adha 2013.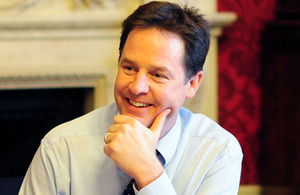 Eid al-Adha 2013: message from Nick Clegg
Read the full transcript of the video below:
Salaam Alaikum.

As Hajj ends and millions of Muslims across the world, and Britain, prepare for Eid al-Adha, I want to wish you all a sincere Eid Mubarak. This festival is a time for prayer, celebration, and, most importantly, charity. When family and friends gather together and do what they can to help those less fortunate.

The theme of sacrifice and generosity, which defines this festival, works to strengthen the ties between us. It reminds us all - both Muslims and non-Muslims alike - of the obligations we have to each other, especially those who are suffering.

Earlier this month I announced that Britain has committed an extra £100 million to help get essentials such as food, clean water and medicine to those men, women and children forced to flee their homes as a result of the ongoing conflict in Syria - bringing the UK's total commitment to the Syrian humanitarian crisis to half a billion pounds. Despite the ongoing pressure on the UK's public finances, the people of Syria need our help, and we stand by them.

Eid al-Adha shows us that, no matter how much we can each contribute, we can all make a difference. And I know that throughout this festival, Muslims across Britain will be helping others - both in their own local communities and around the world - through countless acts of kindness, big and small. So to them and all of those celebrating over the next few days, Eid Saeed.
Published 14 October 2013