News story
Eid al-Adha 2013: message from David Cameron
The Prime Minister sends his best wishes to the Muslim community for a joyous and peaceful Eid al-Adha.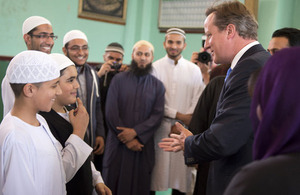 Speaking ahead of Eid al-Adha, David Cameron said:
I send my best wishes to Muslims in Britain and around the world celebrating the holy festival of Eid al-Adha.

At this time of year, as is so often the case, we will see Muslims of all ages and backgrounds putting others before themselves, giving to worthy causes and praying for those in need.

I commend Britain's near 3 million Muslims for their charity, their self-sacrifice and their devotion to God. I believe that our country is a much stronger one because we have people of faith and belief. Britain's Muslims, Christians, Jews, Sikhs and Hindus; their institutions and their values help give us that strength.

As the year draws to an end we are reminded of the incredible, and continuing contribution made by Britain's Muslim communities. This year I've met with Muslim businessmen and women, entrepreneurs, faith leaders, public servants and hardworking families. They and so many others play a vital role in our country and I'm proud to be Prime Minister of a nation where people of all backgrounds and faiths can have a stake in our future while freely practising their beliefs.

With a New Year comes renewed hope for the plight of Muslims and others who are suffering in our world. I am delighted that the British government has been able to keep its promise to invest 0.7% of our gross national income on helping the world's poorest. I am grateful that we have been able to partner with Muslim and other organisations to help those in need overseas.

I hope you have a joyous and peaceful festival. Eid Mubarak!
Published 12 October 2013