News story
EHRC appointments
Appointment of a new Chair, and Scotland and Wales Commissioners to the EHRC.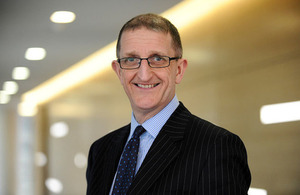 Letter to the Chairs (PDF, 41.2KB, 2 pages)
On 26th April, the Minister for Women and Equalities Nicky Morgan confirmed her decision to appoint David Isaac as the new Chair of the Equality and Human Rights Commission (EHRC). Mr Isaac has taken up his appointment from Tuesday 10 May.
The EHRC works to ensure we live in a country that upholds people's rights, values diversity and challenges intolerance. They seek to maintain and strengthen this heritage while identifying and tackling areas where there is still unfair discrimination or where human rights are not being respected.
Following a rigorous appointment process, it was felt that David's experience and passion for ensuring equality made him the best candidate to take this work forward.
David has a strong background in the area having supported a number of charities alongside local and regional community projects.
He is Chair of Modern Art Oxford, a Director of the Big Lottery Fund and of 14-18 Now. He is also involved in driving diversity in the City of London.
Until 2012, he was Chair of Stonewall, a post he held for nearly ten years, where he led the charity to deliver major legislative and social change in the UK. David was also a Director of the Diana Princess of Wales Memorial Fund, which made grants of over £120 million to support various charitable causes.
He was a founder trustee of British Future. He has a strong reputation in the legal and equality fields, a track record of chairing complex and high profile organisations and for delivering change management programmes by using his diplomatic and consensus building skills.
This coincides with the appointment of Lesley Sawers as EHRC Commissioner for Scotland. Lesley Sawers has a proven record in equality related issues and has most recently led on the review of women's contribution to the Scotland economy. Since this article was first published on 26 April,1 the Minister for Women and Equalities Nicky Morgan has also appointed June Milligan as Wales Commissioner at the EHRC. Dr Milligan has taken up her appointment from Monday 9 May.
Minister for Women and Equalities Nicky Morgan said:
"I'm thrilled to offer David Isaac the position of Chair of the EHRC. David Isaac has an impressive track record and brings a range of experience both from his work on LGB&T issues and Human Rights and as an experienced lawyer. We are confident that in his role as Chair of the EHRC he will be a strong and effective advocate for equality and human rights in Britain."
David Isaac said:
"I am delighted to have been offered this important role which is fundamental to driving equality and human rights in England, Scotland and Wales. I look forward to further discussions with the EHRC with the intention of accepting the role in due course."
Lesley Sawers said:
"I am delighted to be appointed to the role of Scotland Commissioner for Equality and Human Rights. Equality and diversity are key elements in achieving a fair and just society and in delivering sustainable economic growth, not just in Scotland but across the UK. I look forward to working with government, stakeholders and partners to ensure we maximise the talents of everyone and provide opportunity and support to those most in need in our society."
Dr June Milligan said:
"I am delighted to be appointed as the EHRC Commissioner for Wales. The Equality and Human Rights Commission plays a vital role in ensuring fairness, dignity and respect for people throughout Great Britain. I look forward to working with the EHRC Wales team and with all those organisations and people in Wales who share that practical commitment to promoting equality and human rights."
Welcoming the Secretary of State and Minister for Women and Equalities' decision to appoint David Isaac as the new Chair of the Equality and Human Rights Commission, EHRC Chief Executive Rebecca Hilsenrath, said:
"I am delighted to hear that David Isaac will be our new Chair. David has a fantastic track record in championing equality and human rights and driving legislative and social change, and his experience on the boards of a number of highly-regarded charitable and cultural organisations will be a great asset to the Commission. "His leadership and experience will help the Commission on our journey of progress and continuous improvement to deliver even greater impact in promoting a fairer society."
Published 26 April 2016