Egyptian authorities should "meet the aspirations of the Egyptian people"
Prime Minister David Cameron updated parliament on last week's European Council conclusions on Egypt.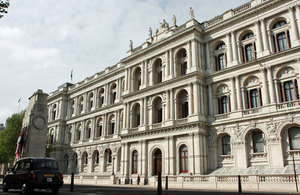 The Prime Minister said:
"I believe the declaration has a number of very positive aspects.
"First, that the Egyptian authorities should "meet the aspirations of the Egyptian people with political reform not repression"
"Second it's clear that transition is needed to broad based democratic government and the statement is emphatic that "this transition should start now."
"The European Council was clear that this has to involve the building blocks of free and open societies and democratic institutions, such as freedom of assembly, the rule of law, freedom of speech and free and fair elections.
"There's a strong case, and the statement reflects, that the EU needs to look hard at its role in the region.
"We have spent billions of taxpayers money in Egypt and neighbouring countries, with carefully crafted Association Agreements and Action Plans offering funds, access to our markets, and other assistance in exchange for progress on the rule of law, democracy and human rights.
"But in Egypt, there has been little or no progress on torture, the judiciary, democracy or ending a 30-year old State of Emergency.
"It is time for Europe to take a more hard-headed approach where the conditions on which we give money are real and insisted upon.
"I reaffirmed this message in a call with Vice-President Suleiman this afternoon and urged him to take bold and credible steps to show that the transition they are talking about is irreversible, urgent and real."
Foreign Secretary William Hague outlined the UK's support for a 'stable democratic future' for Egypt in an interview with the Andrew Marr show on BBC1 on 6 February.
Noting it was a time of opportunity for the Middle East, he called on the Egyptian government to respond urgently to the legitimate grievances of its people. The Foreign Secretary urged "the leaders in Egypt now to show that there's an irrevocable change taking place." He also repeated the message "to avoid repression, harrassment of journalists, abuse of the internet because these things are hugely damaging to Egypt and the wider world and they are wrong in principle."
The Foreign Secretary stressed that it is "real, visible and comprehensive change that will bring people together in Egypt." He was clear that it was for Egypt and not for the UK or other foreign governments to determine the shape of reform but noted it would need to include "some mixture of a more broadly-based Government that includes people from outside the ruling elite of recent years as well as an ability to change their constitution so that people can have confidence in a free and fair electoral process."
He also praised efforts of British Government staff working on the crisis in Egypt. He commented that they had "dealt well with a very difficult situation extremely well and assisted thousands of people successfully to leave the country."
Published 7 February 2011