News story
Edward Timpson's statement on Rochdale Borough Safeguarding Children Board's Review of Multi-agency Responses to the Sexual Exploitation of Children
Edward Timpson responds to Rochdale Borough Safeguarding Children Board's review.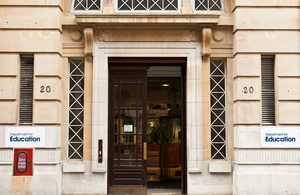 Responding to Rochdale Borough Safeguarding Children Board's 'Review of Multi-agency Responses to the Sexual Exploitation of Children', Children's Minister Edward Timpson said:
We've been very clear that for decades, too many agencies across the country have failed to get a grip on sexual exploitation and allowed abusers to escape justice. These are often complex cases but clearly it is both outrageous and completely unacceptable for any allegations not to be taken seriously or for the young people affected not to be treated as victims.
It is right that Rochdale's agencies are being honest and open about their failures. We welcome them thoroughly overhauling how they protect abused young people and investigate these despicable crimes. We expect them to take decisive action on all the review's recommendations and we welcome the council's decision this month to carry out a further, in-depth serious case review to learn all the lessons and strengthen child protection locally.
We are taking action to prevent and punish child sexual exploitation wherever and however it occurs. We've put in place a robust national action plan with the courts, police and social services to prosecute and jail these criminals; protect young people at risk; and help victims get their lives back on track. We've put in train urgent action to strengthen protection for children living in care homes and most vulnerable to abuse on which we will report back by the end of the year. There is much more to be done but the fact that more and more abusers are now going to court, being found guilty and locked away for years sends out a strong message that abusers will be punished harshly.
Related links
Tackling child sexual exploitation Updates and progress reports on the national action plan for tackling child sexual exploitation.
DfE enquiries
Central newsdesk 020 7783 8300
General enquiries 0370 000 2288
Published 27 September 2012