Education: British aid to transform 1m girls' lives
Today the UK Government is launching the first round of funding for the Girls' Education Challenge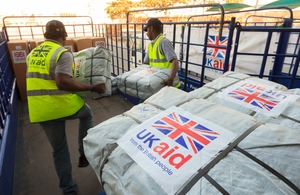 Today the UK Government invites the first round of proposals for the Girls' Education Challenge, which will help get up to one million of the world's poorest girls into school to transform their lives.
The British-backed Girls' Education Challenge will support businesses and charities to find innovative ways to get girls into good quality education in the poorest countries across Africa and Asia.
The initiative was announced by the Deputy Prime Minister in September last year to reach the very poorest girls who have either had no access to education or have been forced to drop out of school early.
The first round will consider bids for projects operating in the following countries: Afghanistan , Democratic Republic of the Congo, Ethiopia, Kenya, Mozambique, Sierra Leone, Somalia, Tanzania and Zimbabwe. A second round of support for smaller pilot projects and strategic partnerships with the private sector will open later this year. It will be available to all DFID priority countries that have existing education support. 
Through a competitive process, the Girls' Education Challenge will support projects that focus on innovative and cost effective ways of getting marginalised girls into primary and lower secondary education, keeping them there, and making sure they learn. Applicant organisations will have to demonstrate measurable improvements in the quality of education as well as increased numbers of girls going through school.
Educating girls in poor countries is the key to beating poverty and the greatest investment we can make for global prosperity and the future of our world. Educated girls take better care of their families because they are more likely to marry later, have fewer children, get immunised, avoid HIV and find employment. Yet more than 39 million girls of primary age are out of school across the world.
The funding stream will be managed by PricewaterhouseCoopers in alliance with FHI 360, Nathan Associates Limited and Social Development Direct. 
This initiative is in addition to Britain's commitment to support 9 million children in primary school - at least half of which will be girls - and 2 million children in lower secondary school by 2014. 
Find out more about the UK's Girls' Education Challenge and how to apply.
Published 1 May 2012