Ed Vaizey defers export of Hampton Court maps and a rare mid-eighteenth century army officer's cap
Temporary export bars provide last chance to keep historic artefacts in the UK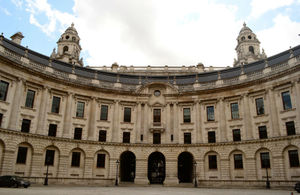 The rare leather bound volume is filled with 15 estate maps and 48 pages of reference tables spanning over 70 years of the life of Hampton Court estate from the 1690s to the 1770s.
It is thought to provide the earliest surviving depiction of a significant part of the county.
The embroidered grenadier cap is thought to be unique and dates from around 1750.
It is decorated with emblems of the Castle of Enniskillen, flying the flag of St George, and the White Horse of Hanover, both of which are surmounted by an embroidered royal crown.
This highly decorated cap, known as a Mitre cap after its shape, was issued to grenadiers, who were the elite soldiers of their age, in order to distinguish them from other soldiers.
Minister's ruling
The Minister's rulings follow recommendation by the Reviewing Committee on the Export of Works of Art and Objects of Cultural Interest, administered by Arts Council England.
The temporary export bars will provide the last chance to raise the money to keep the items in the United Kingdom. 
Anyone interested in making an offer to purchase either item should contact:
The Secretary
The Reviewing Committee on the Export of Works of Art and Objects of Cultural Interest
Arts Council England
Great Peter Street
London
SW1P 3NQ
Further information
Published 4 October 2012