News story
Economic Secretary seeks agreement on further action to address bank de-risking
Andrea Leadsom hosts discussion on how to address the growing problem of banks closing down and denying customers banking services.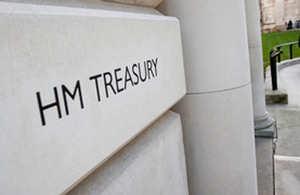 The Economic Secretary to the Treasury, Andrea Leadsom, hosted a cross-sector round table discussion on how to address the growing problem of banks closing down and denying banking services to a range of customers.
Involving representatives from the charity, remittances, financial technology and defence sectors, as well as the banking industry and regulators, the City Minister chaired a discussion on the common obstacles customers face when trying to access banking services and what more can be done collectively to help address these issues; building on the good work already underway.
Participants at the round table supported continued work at the international level to address the global origins of bank 'de-risking' but also agreed that more could be done at home to mitigate the impacts for customers in the UK. In particular, there was a shared view that banks could do more in their communications with customers; explaining their concerns about certain risks and discussing what customers could do to address them. The British Bankers' Association (BBA) agreed to explore what more banks could do here. There was also agreement that continued dialogue between banks, customers, regulators and government would be productive going forward, and help to tackle some of the issues identified at the meeting.
The Economic Secretary to the Treasury, Andrea Leadsom, said:
Today's discussion was useful in affirming that progress on de-risking can come about most effectively from a cooperative approach between banks, regulators, affected organisations and government. It was helpful in identifying common obstacles, areas we need to prioritise, and practical action sectors and banks can take to mitigate the impact of de-risking.

Because this problem is a global trend with global causes, there is a clear need to progress work the UK government has kick-started at a global level. We will continue to lead international efforts to prioritise work that addresses this issue; building on successes at the G20, Financial Action Task Force and Financial Stability Board.
Chief Executive of the Charity Finance Group, Caron Bradshaw said:
It's great to see the government taking de-risking seriously; charities are working all over the world in the most challenging and difficult environments, to ensure that help is given to those that need it most - but we need access to financial services.

Unfortunately, some have lost access as a result of steps taken by banks to reduce risk. We're optimistic that government supported cross-sector discussions at a national and international level will help find a solution.
Chair of the UK Crowdfunding Association, Julia Groves, said:
Crowdfunding and peer-to-peer lending are already bringing much-needed innovation and competition in financial services in the UK. This not only means more choice for lenders and investors, and access to finance for UK businesses, but it also helps create the diversity needed for long-term stability.

We were greatly encouraged by the government's evident commitment to tackling the issue of access to banking and payment services for the FinTech sector. I hope today's round table can become a regular forum to resolve issues and remove barriers to the growth of alternative finance in the UK.
Many of these organisations have highlighted increasing difficulty in opening or maintaining bank accounts and other products and services. This has been linked to a global trend called 'de-risking', whereby banks are seeking to reduce their exposure to higher-risk customers in order to avoid risk (whether legal, regulatory or reputational) and the cost of managing that risk.
Tuesday's (24 March 2015) round table was a continuation of the Economic Secretary's work to support customers affected by de-risking. On Monday (23 March 2015), she met with representatives of London's Somali diaspora community to consider what more the government can do to safeguard the continued flow of remittances back to Somalia.
Published 26 March 2015