Press release
E.coli O157 outbreak linked to watercress - product withdrawn
Public Health England is working with colleagues in the Food Standards Agency (FSA) to investigate a national outbreak of a particular strain of E.coli.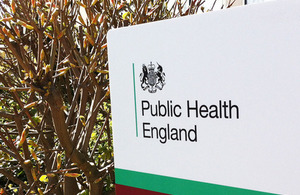 This is known as VTEC O157 Phage type 2 VT2.
As of 10 September 2013, thirteen people from all regions in England have become unwell with the same strain of 'E.coli' bacteria. There are also 4 cases in Wales and 1 in Scotland.
Interviews with patients using detailed food questionnaires have revealed a strong link to the consumption of watercress. Most of the people who were unwell reported buying watercress at Sainsburys. As a precautionary measure Sainsburys have issued a product withdrawal for its bagged watercress and other salads that contain watercress. This outbreak is being investigated by PHE and the FSA as a matter of urgency.
In England 10 out of the 13 cases are female and 3 are male. Nine are aged over 50. Further confirmation of test results are awaited for a number of other people.
Vero cytotoxin-producing 'E. coli' (VTEC) are a group of gastrointestinal pathogens which cause illness in people. Symptoms of this disease can range from mild gastroenteritis to severe bloody diarrhoea. The most serious complications can lead to blood poisoning and kidney failure.
Dr Dilys Morgan, head of gastrointestinal, emerging and zoonotic diseases department at PHE said:
VTEC infections can be very serious. Although all ages are affected, this outbreak is mainly affecting older people. Since children and the elderly are particularly vulnerable for the complications of VTEC infections, it is important that we took action as soon as possible.

We have a robust surveillance system in place for VTEC and this helped us identify that watercress was the most probable food item which was causing the illness. We then followed this up with detailed food questionnaires and this confirmed that most cases had eaten it.

The FSA immediately contacted the retailer with the details of the outbreak and they promptly took action to withdraw the product.
Ends
Notes to editors
The demographics for the cases in Scotland and Wales are: 2 are women, 3 are men. Five were aged over 55.
Public Health England's mission is to protect and improve the nation's health and to address inequalities through working with national and local government, the NHS, industry and the voluntary and community sector. PHE is an operationally autonomous executive agency of the Department of Health. www.gov.uk/phe Follow us on Twitter @PHE_uk
Infections press office
PHE press office, infections
61 Colindale Avenue
London
NW9 5EQ
Published 12 September 2013