HMA Sir William Patey visits Jalalabad, Nangarhar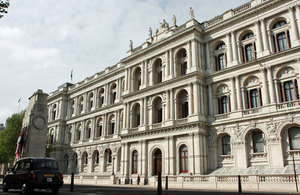 Her Majesty's Ambassador, Sir William Patey, visited Jalalabad, the provincial capital of Nangarhar in eastern Afghanistan on 2 December 2010 in a joint visit alongside NATO's Senior Civilian Representative, Mark Sedwill. The provincial stopover offered the UK Ambassador and NATO's senior civilian an opportunity to see firsthand the progress made, as well as the challenges that remain, in Jalalabad, eastern Afghanistan's burgeoning economic and political hub.
Economic Hotbed
Nangarhar, Afghanistan's most densely populated province, is the commercial centre of the country's eastern region. With an economy dominated by a varied and thriving agricultural sector, the province produces grains, fruits and vegetables distributed and sold right across Afghanistan (Nangahari specialities include oranges, olives, okra, tomatoes, aubergines, cucumbers and watermelons). The Afghan Government, supported by the Nangarhar Provincial Reconstruction Team, is continuing to encourage the transition from subsistence to market-orientated farming. Supported by a USAID team based in the PRT, the Afghan Government's Ministry of Agriculture, Irrigation and Livestock is leading efforts to increase agricultural productivity, strengthen links to markets and improve water management. Ambassadors Patey and Sedwill had the chance to see this in action, visiting the Shishembagh Agricultural Research Facility where the Ministry is leading work to increase farm productivity across Nangarhar's 22 districts.
Flooding and Water Management
In July, Nangarhar suffered severe flash flooding that affected over 30,000 people across the province. Supported by the PRT, the provincial government's response to the crisis continues to help communities devastated by the flooding. Ambassadors Patey and Sedwill met with a local community supported by a Cooperative Housing Foundation project as they rebuild and repair homes destroyed in the floods. Ensuring better and preventative water management, that reduces the risk of flooding, remains a significant challenge facing the provincial government.
Provincial Leadership
Water management, support from the international community and local politics were all on the table as the Ambassadors stopped for lunch with Nanagarhar's provincial governor, Gul Agha Sherzai. Sir William and the SCR also had the chance to hear the views of community leaders from across the province. The dialogue reconfirms the international community's commitment to supporting and strengthening Afghanistan's provincial government both in Nangarhar and in Afghanistan's 33 other provinces.
Published 5 December 2010