Early intervention: key to giving disadvantaged children the opportunities they deserve
Iain Duncan Smith and Sarah Teather announce an independent commission into early intervention.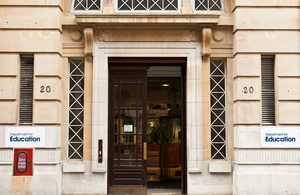 An independent commission into early intervention, which aims to ensure that children at greatest risk of multiple disadvantage get the best start in life, will be chaired by Graham Allen MP, confirmed Secretary of State for Work and Pensions, Iain Duncan Smith and Children's Minister, Sarah Teather, in an announcement today.
Early intervention can provide children with the social and emotional support needed to help fulfil their potential and break the cycles of underachievement which blight some of our poorest communities. The commission will look at and recommend the best models for early intervention and advise on how these could be extended to all parts of the country. It will also consider how such schemes could be supported through innovative funding models, including through non-Government streams.
The enquiry is being commissioned as one of the first pieces of work to be remitted to the Social Justice Cabinet Committee, chaired by Rt Hon Iain Duncan Smith. The committee is the first time that a cross-departmental approach is applied to tackling the causes of poverty and will ensure that each department's proposals deliver fairness and achieve a social return on investment.
Accepting the role of chair, Graham Allen MP said:
I am taking on this added burden not for sectional interest or to score political points but to improve the life chances for people in constituencies like mine. Nottingham has proved we can intervene successfully. Now we not only need to prove we can take early intervention to a national level, we also need to find inventive ways to fund it in a time of economic drought.
I have insisted that this work be strictly independent and the lessons shared with all parties. If early intervention is to be a success it must last a generation and therefore has to be owned and sustained by all parties.
Launching the review, Rt Hon Iain Duncan Smith, Secretary of State for Work and Pensions said:
I am delighted that Graham will be chairing this review. He understands that early intervention means tackling the root cause of social problems rather than spending years afterwards ineffectively treating the symptoms. If we are serious about unlocking children from generations of poverty and giving them a real chance to make something of their lives then we have to make sure the support is there from the start.
Children's Minister Sarah Teather said:
No child's future should be predetermined by the decisions or mistakes of his or her parents, and I firmly believe every child should have the chance to succeed, regardless of their background. Intervening earlier with troubled families can not only prevent children and their parents falling into a cycle of deprivation, antisocial behaviour and poverty but can save thousands if not millions of pounds in the longer term.
This review demonstrates the importance the Government places on improving early intervention, we want to learn from the areas already pioneering a successful approach to tackling troubled families early and build on local good practice.
The review will report by the end of January 2011 on the issue of best practice and provide an interim report on funding. A final report on funding will be produced by May 2011.
Notes to Editors
Graham Allen is MP for Nottingham North and has previously co-written a report on the merits of early intervention with Iain Duncan Smith for the Centre for Social Justice and the Smith Institute. The report, 'Early Intervention: Good Parents, Great Kids, Better Citizens', can be downloaded from this page.
DfE media enquiries
Central newsdesk - for journalists 020 7783 8300
Published 28 July 2010