Press release
Early Findings of Direct Payment Demonstration Projects published
The Department for Work and Pensions (DWP) today published the latest findings from the Direct Payment Demonstration Projects.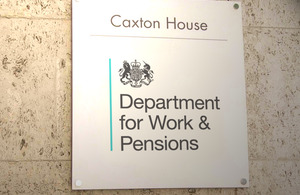 The Department for Work and Pensions (DWP) today published the latest findings from the Direct Payment Demonstration Projects, showing numbers of tenants taking part and payment levels.
The projects in six areas across Great Britain are testing a number of different aspects of the direct payment of housing benefit to social sector tenants, ahead of changes that form part of Universal Credit.
The findings show over the first four months, 6,220 social tenants were paid their housing benefit directly. Of a total level of rent charged of £7,692,844 over the period, rent collection rates stood at 92%.
Across the different areas, levels of payments by tenants on the projects varied from 88% to 97% - demonstrating the different conditions and approaches being tested in each area
A total of 316 tenants have been switched back to payments to their landlords - either because they have reached triggers for switch back or have been switched back due to early invention.
The Minister for Welfare Reform Lord Freud said:
Direct payments of benefits will help people to step into the workplace without the many institutional barriers that now exist.

However, we have always been clear that exemptions must be in place alongside the right support for those who need it and the Demonstration Projects are showing us and the housing community the steps that must be taken.
Direct Payments will give benefit claimants increased financial responsibility, making it easier for them to make the move into work. This move mimics the direct payment of Housing Benefit to claimants living in the private rental sector.
The projects are investigating a range of elements of direct payments to provide protection for landlords and tenants including:
different levels of support social sector tenants may need to move to direct payments of housing benefit, such as advice on managing personal finances and budgeting
the exemptions that need to be in place for direct payments
payment switch-backs to the landlord if a tenant falls into arrears
the support to help tenants in arrears, to pay back their arrears and to potentially return to direct payments
early intervention switch-backs before arrears reach trigger points
The full report is available on the CIH Direct Payments Learning Network and the DWP website - http://www.dwp.gov.uk/docs/direct-payment-demo-figures.pdf
Notes to Editors:
The six direct payment demonstration projects are:
Dunedin Canmore Housing Association in Edinburgh, working in association with The City of Edinburgh Council
Oxford City Council and Oxford Citizens, (part of the) Greensquare Group, Southern England
Shropshire Unitary County Council and Bromford Group, Sanctuary Housing and The Wrekin Housing Trust, West Midlands
Southwark Council and Family Mosaic, London
Torfaen County Borough Council and Bron Afon Community Housing and Charter Housing, Wales
Wakefield Metropolitan District Council and Wakefield and District Housing, Northern England
The English and Welsh projects went 'live' in June and July 2012; Edinburgh at the end of August.
Media enquiries: 0203 267 5123
Out of hours: 07659 108 883
Published 17 December 2012