News story
Early Childhood Development programme
International Development Secretary has committed to a research programme which aims to help millions of children reach their full potential.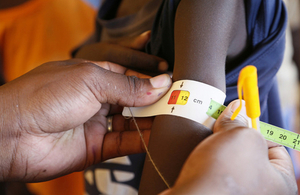 Globally, 250 million children under the age of five are estimated to be at risk of stunted growth and poor development. The new UK aid funded research programme will investigate what works on a global scale to tackle malnutrition and poor physical, social, emotional and mental development.
The programme will produce evidence of what works in countries such as Rwanda, Jordan and Tanzania, providing evidence which can benefit millions of children across developing countries.
She made the announcement to establish a programme of research across Africa, Asia and the Middle East during the New Zealand Prime Minister, Jacinda Ardern's trip to London.
New Zealand is considering partnering with the UK to extend it to the Pacific region, making it a truly global initiative.
The UK has committed to invest £20.5 million over five years in the programme to understand how best to unlock children's potential globally.
This partnership demonstrates the UK's and New Zealand's shared ambition to work together on the most important development challenges and reflects our determination to deliver the Global Goals. Global Goal 4.2 is to ensure that, by 2030, all girls and boys have access to quality early childhood development.
During Prime Minister Ardern's visit, she and the Prime Minister, Theresa May, also agreed to prioritise a UK-NZ Free Trade Agreement (FTA), as well as signing a Mutual Recognition Agreement (MRA) to enable the continuity of goods standards. There were also announcements made on co-locating High Commissions in the Pacific and continued co-operation on tackling climate change.
General media queries
Follow the DFID Media office on Twitter - @DFID_Press
Published 25 January 2019