EA Chief Executive: Natural Flood Management essential in battle against climate change
Sir James Bevan outlined his vision for natural flood management as the Environment Agency published a new report on the £15 million NFM programme.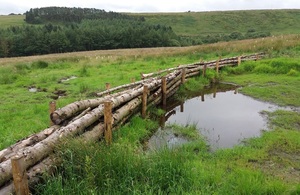 EA Chief Executive Sir James Bevan today (9 December) set out how Natural Flood Management must be a core part of the nation's defence against flooding and climate change.
Following a report published by the Environment Agency, he outlined his vision for natural flood management to be seen shoulder to shoulder with its programme of crucial bricks and mortar hard defences.
The report evaluates the impact of the national Natural Flood Management Programme which received £15 million of government funding, including benefits to communities and to biodiversity alongside protecting homes and businesses from floods.
Across 60 pilot projects the programme created an equivalent of 1.6 million cubic metres of water storage and increased flood resilience to 15,000 homes. In addition, the programme contributed to nature recovery: improving 4,000 hectares of habitat, improving 610 kilometres of river and planting 100 hectares of woodland.
Sir James Bevan said:
The warning signs of the climate crisis are stark – and sadly devastating flooding is likely to become a more familiar sight over the next century.

As we prepare for more extreme weather events, we must use every weapon in our armoury and Natural Flood Management will play an essential role in this.

By harnessing the power of nature alongside our traditional flood defences, we can not only help keep communities safer, but also create wildlife havens and tackle the climate emergency.
This week, governments from around the world are coming together for COP 15 to agree on how to halt and reverse nature loss.
We are facing a biodiversity crisis and a climate crisis that places considerable stress on nature and wildlife. Natural flood management is a key way to address these challenges, by improving resilience to flooding, enhancing biodiversity, storing carbon and helping regulate the local climate.
Natural flood management helps to slow the flow of water across the landscape - including the re-meandering of rivers, the restoration of wetlands and targeted woodland planting.
NFM measures include planting trees and hedges to absorb more water, creating leaky barriers to slow water flow in streams and ditches and restoring salt marshes, mudflats, and peat bogs.
Environment Minister Rebecca Pow said:
We know that flooding can have a devastating impact on people's lives, homes and livelihoods. That is why we are investing a record £5.2 billion in flood and coastal defences to ensure more communities are better prepared – and nature-based solutions are a key component of this.

The additional benefits of Natural Flood Management for people and wildlife are vast - helping us reach our ambitious Net Zero targets, providing vital new habitats and creating areas of natural beauty for people to enjoy for generations to come.
The £15 million NFM programme involved 85 partners - including Rivers Trusts, Wildlife Trusts, local authorities, Natural England, the Forestry Commission, landowners, universities and local businesses. It was completed this year and has achieved some great successes.
In Cumbria, an NFM project trailed a variety of measures across different landscapes aiming to slow or store 10,000 cubic metres of water per square kilometre. The team worked with a range of landowners and the Forestry Commission to change overland flow routes, build earth dams and leaky barriers, plant 8,000 trees and create offline flood storage ponds.
Meanwhile, the community-led Shipston Area Flood Action Group (SAFAG) used NFM measures across the River Stour in Warwickshire to create 700 leaky barriers and ponds to slow the flow of water during heavy rainfall, reducing the flood risk to people and businesses in 17 villages and towns.
In London a partnership between South East Rivers Trust (SERT) and the London Borough of Sutton is working to install Sustainable Urban Drainage Systems (SuDS) in six Sutton schools. The project will disconnect nearly 4.3 hectares of hard surfaces (such as roads, paths, roofs) from the drainage network flowing into the River Wandle which is helping to reduce surface water flooding and reduce pollution.
Thanks to £50,000 funding through the NFM programme, the project will provide biodiversity benefits as well as opportunities for outdoor education. It has also helped to unlock a further £40,000 of partnership funding.
Mark Lloyd, CEO of Rivers Trusts, said:
Rivers Trusts were delighted to work in partnership with others to deliver many of the pilot projects referred to in this excellent report, which we welcome.  It is clear that natural flood management has a really important role to play in protecting communities from the misery of flooding, while at the same time making a contribution to nature recovery, pollution prevention, soil protection, drought resilience, amenity value and carbon sequestration.

Our country faces several major environmental threats and we cannot solve them one at a time.  Managing landscapes to store more water provides multiple benefits to society, and can therefore attract multiple sources of funding.  This pilot programme needs to become business as usual urgently and we need to break down the barriers to delivery at scale.
Sarah Fowler, Chief Executive of the Wildfowl & Wetlands Trust, said:
Wetlands help us mitigate and adapt to the consequences of climate change, which is why WWT is calling for the restoration and creation of 100,00ha of wetlands in the UK. WWT is delighted to have played a part in the government's £15 million investment to pilot natural flood risk management.

This report demonstrates the power of nature, and wetlands in particular, to tackle flooding.  I look forward to WWT working with the Environment Agency, using our expertise in wetland science and wetland delivery, to build natural flood management solutions at scale to manage current and future flood risk. But we need to see a significant increase investment in NFM to meet the scale of the opportunity.
Through the natural flood management programme, we have learnt about how to deliver natural flood management projects with communities, landowners and environmental charities.
The report also recognised the importance of long-term monitoring and evaluation of natural flood management, and the need to sustain it long-term, through plans for local nature recovery and new approaches to environmental land management.
We are using this learning to help us to do more and better natural flood management projects in the future as part of our commitment to deliver the ambitions of the national Flood and Coastal Erosion Risk Management Strategy. The Government has a target of doubling the number of natural flood management projects over the next five years. . To find out more about natural flood management, what we've learnt through our recent £15m investment programme, and what we're doing to put this learning into practice, have a look at the evaluation report at https://www.gov.uk/government/publications/natural-flood-management-programme-evaluation-report
Published 9 December 2022