DSIT to showcase innovative UK businesses at new headquarters
Organisations have been invited to showcase their innovations as part of the department's plans to champion the work of UK industry and academia.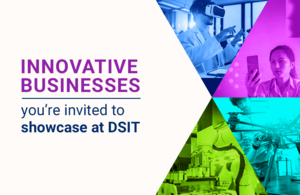 The very best of British innovation, design, technology and science to be showcased in the heart of Whitehall
Department for Science, Innovation and Technology (DSIT) marks six-month anniversary with an open invite to businesses and organisations across the UK to exhibit at the department's new headquarters from early 2024
Showcase forms part of DSIT's mission to build a pro-innovation culture across government as key to delivering on priority to grow the economy
Leading innovation firms, technology businesses and research organisations have today (9 August) been invited to showcase their innovations at the entrance to the new Department for Science, Innovation and Technology (DSIT) headquarters, as part of the Department's plans to champion innovation and the pioneering work of UK industry and academia.
The department is marking its six-month anniversary with an invite to businesses and organisations from across the country to exhibit within its new headquarters, giving their work prominence and visibility to ministers, businesses, government officials, and influential individuals who will visit the area.
It gives the department another opportunity to showcase the very best of British innovation, design, technology and science. Those selected to exhibit will be promoted across the department's social media channels as well as at internal events, highlighting their work to the innovators and decision makers who are leading the push to cement the UK's status as a science superpower.
Science and Technology Secretary Michelle Donelan said:
UK businesses, universities and research organisations are already world leaders in their fields, from life sciences and engineering biology to quantum computing and AI. To seize on the potential for science and technology to keep our nation secure, our people prosperous, and our planet healthy, it is essential we place this work at the very centre of what we do in government – and hosting them in our new headquarters demonstrates our commitment to working hand-in-hand with the sector while opening up one more avenue for collaboration.

These exhibitions will give us another opportunity to see first-hand how these technologies are improving the lives of everyone in the UK, and it will give those exhibiting a new platform to showcase their work, right in the heart of government.
The dedicated Department for Science, Innovation and Technology is the force behind the Prime Minister's commitment to growing the economy, and to improving the lives of everyone in the UK through new discoveries that advance the health and prosperity of society whilst protecting our values both at home and abroad.
The government has set out its aim to be a science and technology superpower by 2030, to meet this ambition it has identified five technologies of tomorrow – quantum, AI, Engineering Biology, semiconductors and future telecoms. Together with life sciences, space, and green technologies, these technologies have been identified as most critical to the UK in the coming decades.
DSIT is celebrating its six-month anniversary since it was formed to deliver on the clear mission set by the Prime Minister, to ensure the UK is the most innovative economy in the world. During those six months, the department has launched the Science and Technology Framework, backed by over £370 million to boost investment in innovation, to bring the world's best talent to the UK, and seize the potential of ground-breaking new technologies like AI. The AI Taskforce, backed by £100 million in government funding, was also launched to accelerate the UK's generative AI sector and keep pace with rapid advances in these technologies.
Other highlights from the last six months include the 10-year national quantum strategy backed by £2.5 billion of public funding, and the International Technology Strategy which lays out our plan to support tech investment, encourage international collaboration, and strengthen the UK's cyber security defences. More recently we announced up to £50 million of government investment in new UK Research Ventures Catalyst to encourage greater private and philanthropic backing for UK science, research and innovation.
The Department is due to move into its new headquarters in the estate known as the 'Admiralty Buildings' later this year, physically positioning science and technology at the core of Whitehall. The new offices will see all London-based DSIT officials located in the same building, as the beating heart of science and technology in Westminster.
The first exhibitions are expected to begin early in 2024 and interested participants will be asked to outline how they are helping the UK to cement its position as a science and technology superpower. They will also be asked to show how their organisation will deliver improved public services, create new better-paid jobs, and grow the economy. Each exhibit will be in place for around one month.
Businesses and organisations who are interested in exhibiting at our London headquarters, can contact exhibit@dsit.gov.uk for more information.
Published 9 August 2023