News story
DSA publishes 2-year business plan
The Driving Standards Agency (DSA) has published its business plan for 2013 to 2015 which sets out the agency's priorities and objectives.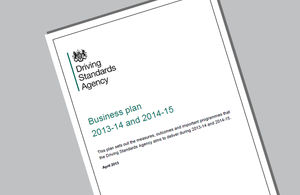 DSA will continue to improve road safety to make sure Britain's roads remain among the safest in the world.
It also aims to provide better efficiency and value for money, and respond more quickly and flexibly to changing customer demand.
Chief Executive, Rosemary Thew, said:
At DSA we know our personal and business customers want more choice and a top class service. They also want to transact with us at more convenient times of the day and at a lower cost.

We are working hard to understand their needs and think in new ways about how we deliver services.
Digital by default
The agency plans to increase online take-up of driving test bookings to 90% or more by spring 2014. The main aim is to become a 'digital by default organisation' by 2015.
Driving and riding standards
DSA also aims to be the first point of call for trusted, easily available information on driving and riding standards in Great Britain.
It will continue to build on its national standards describing the skills, knowledge and understanding needed by drivers and riders to be safe, responsible and respectful road users. These include what instructors need to know or be able to do, to provide effective training.
Published 3 April 2013