Press release
Driver training exemption set to cut costs and bureaucracy
Short distance repair and testing drivers to be made exempt from additional professional driving tests and training.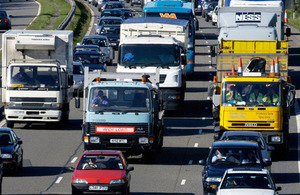 A rule forcing mechanics to pay for professional driver training is to be abolished saving UK businesses £29 million, Roads Minister Stephen Hammond has announced.
Under current European rules, anyone who drives heavy goods vehicles or buses must complete a Certificate of Professional Competence but around 76,000 who drive them for short distances, for the purposes of delivering or repairing them, will soon be exempt.
Stephen Hammond said:
Driver training is essential to ensure that lorry and bus drivers keep their skills up to scratch and keep our roads safe.

But making the training compulsory for those who only drive HGVs over short distances – because they are delivering them for repair or testing – is costly and time-consuming. That is why we are making these exemptions which will reduce costs and administration for businesses.
Two exemptions, made following a consultation, will be implemented this Autumn.
The first exemption benefits both mechanics and valets delivering vehicles. It applies as long as no goods or passengers are being carried, the vehicle is not being used for hire or reward, driving heavy goods vehicles (HGVs) or public service vehicles (PSVs) is not the driver's main job and the vehicle remains within 50 kilometres of the driver's base.
The second exemption benefits mechanics – it applies as long as the vehicle is being driven to an official test at a VOSA or authorised testing facility.
The government intends to look again at whether the scope of exemptions from Driver CPC can be extended in respect of farmers.
Notes to editors
The exemptions will result in around 76,000 individuals, whose main job is not driving, being exempt from the requirement to have an additional driving test and additional training every year. This is expected to generate savings to the industry of £29 million in the first year alone.
The changes being implemented form part of the government's Red Tape Challenge commitment to reduce unnecessary regulations. Drivers will still be required to hold the appropriate entitlement on their driving licence.
The government will also be re-issuing guidance shortly to clarify the situation for drivers with grandfather rights minibus entitlements, to enable them to progress straight to the periodic training element of Driver CPC. This will considerably cut burdens on this small group. So where driving requires CPC, D1 (NFHR) and D (NFHR) licence entitlement holders will now be able to progress straight to the CPC periodic training requirement of 35 hours training per 5 years, rather than needing to take the initial licence acquisition and CPC test as well.
Driver CPC has been transposed into UK regulations from Directive 2003/59/EC, which is about the initial qualification and periodic training of drivers of certain road vehicles for the carriage of goods or passengers. The directive introduced a Driver Certificate of Professional Competence (DCPC) across the European Union.
The UK legislation is the Vehicle Drivers (Certificates of Professional Competence) Regulations 2007. Like the directive, these regulations require that all drivers of large goods vehicles (LGVs) and passenger carrying vehicles (PCVs) must hold a DCPC unless one of the exemptions applies to them.
The requirements for DCPC applied from 10 September 2008 in respect of PCVs and from 10 September 2009 in respect of LGVs. Since those dates, new PCV and LGV drivers have obtained their DCPC by passing the initial DCPC test.
Drivers who held a full UK licence to drive a PCV or LGV before 10 September 2008 (for PCVs) or 10 September 2009 (for LGVs) have acquired rights that last until 10 September 2013 (for PCVs) or 10 September 2014 (for (LGVs) and therefore did not have to obtain an initial DCPC. This is also the case for drivers who held – before 10 September 2008 (for PCVs) or 10 September 2009 (for LGVs) – a licence to drive a PCV or LGV that was issued by another member state, or a licence that is recognised as equivalent to a full UK licence or to another member state's licence.
The consultation and consultation response document is available on GOV.UK.
Roads media enquiries
Media enquiries 020 7944 3021
Out of hours media enquiries 020 7944 4292
Switchboard 0300 330 3000
Published 8 August 2013