Drive to increase number of women on public boards
The Cabinet Office is supporting efforts to raise the proportion of women on public boards to 50% by 2015.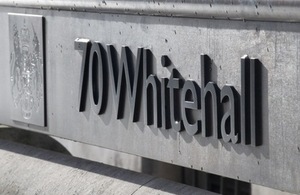 A renewed drive to encourage more senior women to take up roles on public boards was launched today by the Cabinet Office.
The Cabinet Office hosted a high-level networking event for senior women as new data revealed that just 37% of new public appointments made by Whitehall departments in 2012 to 2013 were women.
This is the first year that the government has published its own statistics on the gender diversity of public appointments, and these figures are set against an aspiration that 50% of new public appointments be female by 2015.
At a reception held at the Cabinet Office, Minister for the Cabinet Office Francis Maude, and the Minister for Women and Equalities Maria Miller, will tell a gathering of prospective appointees, current appointees and head hunters that government must ensure that the boards of public bodies are representative of the communities they serve.
Minister for the Cabinet Office Francis Maude said:
Public bodies carry out some of the government's most important work, making decisions and delivering essential services that affect every one of us. But to be truly effective, the boards of our public bodies need to represent the communities that they serve. At the moment they do not.

Today's figures show that although we have made progress, women are still under-represented on these boards. We have set out our aspiration that half of new appointments will be women. While we are working hard to improve the situation we also need to find out what barriers currently prevent women from applying. That way we can make sure that we get the very best people serving on these boards.
Minister for Women and Equalities Maria Miller, adds:
As the recent Women's Business Council report made clear, women must be at the heart of our efforts to create employment and grow our economy. This must extend to roles in public life. It's not about political correctness - it's about good business sense. It's a promising start that the number of women taking up public appointments is increasing across Whitehall; but we need to do more to ensure that more women both apply and succeed.

Many of these roles offer some fantastic, fulfilling and high-profile opportunities to make a real contribution to the country, to our public services and to our economy. I would urge women out there to put yourselves forward whatever your background - if you think you have skills and experience to offer, we want to hear from you.
Notes to editors:
Public appointments are ministerial appointments to the boards of public bodies and are regulated by the Commissioner for Public Appointments. These are typically non-executive chair or director roles. There are around 8,500 people on the boards of public bodies, ranging from trustees of the British Museum's board, to volunteers who act as independent monitors of prisons. Those appointed to advisory bodies provide independent, expert advice to government departments and ministers on specific issues.

An appointee to the board of a public body will often be involved in:

providing direction and leadership - this includes setting the organisation's strategy, agreeing business plans to deliver the strategy and recruiting key staff
holding senior staff to account - this includes holding managers to account on how the body is managed, how business plans are delivered and how the budget is spent
representing the work and views of the body - this might be to ministers, parliamentarians, key stakeholders and the wider public

The Cabinet Office figures below show the breakdown, by department of the gender of new public appointments made between April 2012 and March 2013.
| Department | Percentage of women in public appointments |
| --- | --- |
| Cabinet Office | 50% |
| BIS | 32.14% |
| DCLG | 44.44% |
| DCMS | 38.10% |
| DfE | 31.82% |
| DfID | 33.33% |
| Defra | 40.48% |
| DoH | 43.69% |
| DfT | 16.67% |
| DWP | 41.67% |
| DECC | 21.43% |
| HMT | 0 |
| Home Office | 50% |
| MoD | 17.24% |
| MoJ | 45.71% |
| Total | 37.15% |
Today the Commissioner for Public Appointments published its annual statistics on the diversity of public appointments. These statistics include ethnicity, disability, age and political activity information in addition to gender. The Commissioner's statistics also include Welsh government appointments and reappointments.
Published 25 June 2013