Dr Fox visits RAF personnel deployed on Op ELLAMY
Secretary of State for Defence Dr Liam Fox has visited UK servicemen and women in Italy who are currently supporting operations over Libya.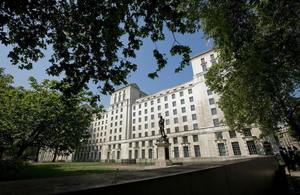 906 Expeditionary Air Wing personnel are based at Gioia del Colle airbase in Italy where they operate Tornado GR4 and Typhoon aircraft as part of the UK's continued commitment to NATO to enforce United Nations Security Council Resolution 1973.
In the last fortnight, an additional four Tornados were deployed to Gioia del Colle to increase the reconnaissance and strike capability of the Royal Air Force. Since operations over Libya began in March, the Royal Air Force has successfully carried out hundreds of precision attacks on military targets across Libya.
Dr Fox received a warm welcome to Gioia del Colle by Italian base commander Colonel Giovanni Balestri, before being taken on a tour of the operating base by Group Captain Peter Squires, Commanding Officer 906 Expeditionary Air Wing.
Group Captain Squires said:
We are delighted to host this visit by the Secretary of State which allows him to meet the men and women who are providing such a significant contribution to the NATO-led operation.
It is an acknowledgement of the hard work and commitment of personnel from all three Services, but especially the vital role played by Royal Air Force personnel both in the air and on the ground.
Members of 3 (Fighter) Squadron, from RAF Coningsby, were amongst the servicemen and women that Dr Fox met during his visit. They proudly showed Secretary of State the Typhoon's air-to-ground weapons fit, which it deploys daily in addition to its impressive air-to-air capabilities.
He also met servicemen and women from 2 (Army Co-operation) Squadron, normally based at RAF Marham, who maintain and fly the Tornado GR4 aircraft. They are providing tactical reconnaissance with the RAPTOR pod, and air-to-ground attack capability with a range of precision weapons.
Before departing, Dr Fox said:
It has been an honour and a pleasure to visit Gioia Del Colle today and meet the men and women of our armed forces who are doing such a sterling job in support of Operation ELLAMY. The immense contribution our Tornado and Typhoon aircraft bring to the coalition effort under NATO is key to the successes we have seen so far in this campaign, and is helping protect innocent Libyans from persecution by Colonel Gaddafi.
In an operational update released on Sunday 31 July, Major General Nick Pope, the Chief of the Defence Staff's Communications Officer, said:
UK forces have continued to conduct missions over Libya, under the aegis of NATO's Operation UNIFIED PROTECTOR, against those elements of Colonel Gaddafi's former regime which persist in threatening the civilian population.

On Friday, Royal Air Force Tornado and Typhoon aircraft used Paveway guided bombs to conduct ten successful attacks on command and control facilities, barracks and staging areas being used by Gaddafi's men in and around Zlitan. The targets had all been previously located by intensive NATO reconnaissance missions that had confirmed their usage by the former regime.

To the south west of Zlitan, another RAF patrol attacked a railway construction site at Bani Walid, which had been commandeered for use as a military fuel distribution facility.
Published 1 August 2011