Dr Fox on progress in Libya
Dr Fox said: "Our objective when NATO took responsibility for enforcing UN Security Council Resolution [UNSCR] 1973 remains the same today…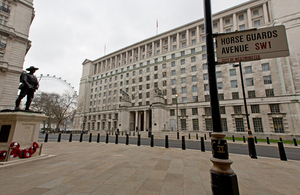 Dr Fox said:
Our objective when NATO took responsibility for enforcing UN Security Council Resolution [UNSCR] 1973 remains the same today: to protect the civilian population in Libya and allow the Libyan people to determine their own future free from fear of repression.

By NATO allies working together, in unprecedented co-operation with Sweden, Qatar, Jordan and the UAE [United Arab Emirates], we have been able to restrict the Gaddafi regime's ability to attack its own people.

As a result of our actions we are seeing the first steps towards inclusive reform in Libya, with the creation of the National Transitional Council. With the extension of NATO's operational plan agreed, it is right to reflect on the progress we've made and where we should go next, and now is not the time to reduce the pressure on Colonel Gaddafi.

Despite our successes, the fighting in Libya continues and the welcome extension of the mission by another 90 days will enable us to continue to fulfil the objectives of our mission and give the Libyan people the freedom they truly deserve.

We can be proud of the fact that we prevented a humanitarian crisis in Benghazi. History will look favourably on how we rose to this challenge. The way we carried out our mission is also important.

Our concentration on minimising civilian casualties has helped maintain the political coalition - particularly in the Arab world - and has shown that we hold the moral high ground because we have a higher regard for the value of human life than Gaddafi has shown.

But there is an important distinction between what NATO could do, and what it should do. NATO should have a clear channel of communication with the National Transitional Council to help us best to respond to their concerns, and we should work within the appropriate institutions and with our allies to present a viable and lasting road to peace for the Libyan people.
Published 9 June 2011