Don't let health and safety myths get in the way of Royal Wedding celebrations
With one week to go until the Royal Wedding, Local Government Minister Grant Shapps has today reassured communities across the country that …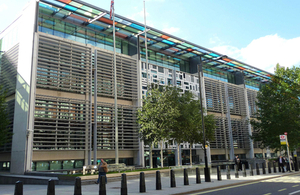 With one week to go until the Royal Wedding, Local Government Minister Grant Shapps has today reassured communities across the country that it's not too late to celebrate with their own party.
He urged people not to listen to those who may claim that health and safety laws prevent them celebrating the Big Day - when this is simply not true.
Certain councils or health and safety officials may choose to impose height restrictions on bunting, and rules on how bunting should be hung in the street. But this is despite there being no central rules on this whatsoever.
So in new, extra advice for party hosts, Mr Shapps made very clear that neighbours will be able to put bunting up in their streets how they wish, without fear of it being ripped down by health and safety officials.
The guidance also makes clear that for most celebrations in small streets the local council only needs to know where it is taking place and when the road will be closed so they can plan around it.
Mr Shapps also clarified that getting permission to close a street for a party also gives the green light for a neighbourhood to decorate as they want - including with bunting.
If residents can't hold a party in their street, they can instead hold a local 'street meet' gathering in a local open space, driveway or cul-de-sac without facing any form-filling at all.
The guidance, updated this month, also clears up other myths including:
The need for entertainment and food licences: organisers do not need an entertainment licence unless they plan to sell alcohol or charge for a performance, and no food licence is required for an ordinary party;
Fees charged for road closures: the Government has scrapped guidance that was used by councils as an excuse to charge people wanting to close their road, so now many councils will charge nothing for Royal Wedding parties; and
The need to buy expensive road signs and insurance: some councils lend signs and cones to organisers, while Streets Alive have downloadable signs available from their website, which also offers tips on insurance - although there is no requirement from central Government for party hosts to take out insurance.
Grant Shapps said:
Through this advice we've made clear that the bonkers health and safety rules that can prevent simple celebrations taking place need not apply to Royal Wedding parties - far from it, they can be set up with the minimum of fuss and almost no form-filling.

So with just one more week until Prince William and Kate Middleton's big day, there is still time for communities to organise their celebrations, whether in their street, in their local open space or even in someone's garden.

My message to neighbourhoods across the country is clear - if you want to celebrate the Royal Wedding, get out the bunting and start planning a party in your area.
Notes to editors
Street Parties - the myths and facts is available at: www.communities.gov.uk/publications/communities/streetpartyguide.
Twitter
Keep up to date with the Department by following us on Twitter (external link).
Media enquiries
Visit our newsroom contacts page for media enquiry contact details.
Published 22 April 2011