Press release
Donors must work together to make sure humanitarian assistance reaches Syrians: Greening
International Development Secretary Justine Greening hosts meeting on humanitarian response to the Syria crisis.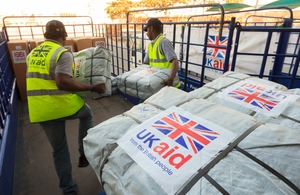 The UK today hosted a meeting of UN agencies and top donors to find ways to ensure a more effective, co-ordinated humanitarian response to the Syria crisis.
International Development Secretary Justine Greening called the meeting to discuss how the international community could better assist Syrians affected by the conflict as well as the countries and communities that are hosting Syrian refugees.
Speaking from the meeting in London, Justine Greening said:
Today's meeting was about the international community and the UN getting better co-ordinated for the sake of the Syrian people. It gave us the opportunity to assess the practical challenges but also the opportunities to improve our work to help the innocent people caught up in this terrible crisis.
The meeting looked at practical solutions to some of the challenges faced by the international community in its response to the Syrian humanitarian crisis. These included how to sustain funding for operations, better co-ordinating the response and improving access to and the protection of affected populations.
Notes to editors
Syria is the worst humanitarian crisis in recent memory, with millions living in desperate circumstances inside the country and millions more affected in the region. By the end of this year, as many as ten million Syrians could be displaced from their homes.

The UK has so far committed £348m to the Syria crisis, the largest amount we have ever contributed to a humanitarian crisis, to provide support including food, medical care and relief items for over a million people.

Inside Syria, UK support has provided food for over 132,000 people, essential items such as cooking sets, blankets and mattresses to over 200,000 people and medical consultations to over 244,000 critically injured and sick people.

UK support in the region includes food for 110,000 refugees in Jordan, safe drinking water and sanitation services to almost 100,000 people in Jordan and Lebanon.
Published 3 July 2013