Don't bring me back: buy me in the UK
More than 50 people a day have illegal foods seized at ports and airports when entering the UK, the latest figures show.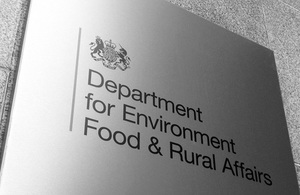 More than 21,200 illegal personal food items, such as meat and dairy products, brought in from non-EU countries were seized by UK enforcement agencies such as the UK Border Agency last year, under EU rules intended to protect people, livestock and crops from exotic pests and diseases.
Food Minister Jim Paice said:
"Most people bring back these items for a 'taste of home', but they could be bringing back disease.
"We need to make sure we protect our crops and livestock, as well as people's health - which is why we've been working to raise awareness and dispel myths about personal food imports rules.
"Most of these foods can now be purchased in British markets and shops."
Enforcement agencies seized more illegal dairy products (45 per cent increase) and illegal meat products (14 per cent increase), according to the Annual Review of Controls on Imports of Animal Products.
The UK Border Agency has deployed officers to further target high risk routes for illegal meat and dairy products carried by incoming travellers in line with the Government priority to protect the UK agriculture from harmful outbreaks of animal diseases.  EU rules changed from May 2009 allowing an increase to the personal concession amount allowed for fish.
Defra, the UK Border Agency and the Food Standards Agency (FSA) raised public awareness of the rules in many ways last year including the re-launch of the Black and Minority Ethnic (BME) campaign, with African and Chinese community campaign ambassadors.  The campaign also included significant community outreach events to help raise awareness.
Notes
The Annual Review of Controls on Imports of Animal Products: April 2009 - March 2010 can be found here: archive.defra.gov.uk/foodfarm/food/personal-import/pdf/review0409-0310.pdf.
Seizures of animal products made between April 2009 and March 2010 include:
Region No. of seizures Wgt (kg) Vol (ltrs)
Eastern Europe 1,259 5,805 3
Eastern Africa 943 5,157 0
North Africa 382 1,346 18
Central Africa 101 783 0
Southern Africa 410 2,452 0
Western Africa 965 18,301 0
North America 586 18,340 44
Caribbean 290 2,913 0
Central & South America 296 1,445 4
Eastern Asia 5,223 56,377 1,202
Southern Asia 4,580 18,570 12
South East Asia 200 474 0
Near & Middle East 5,729 28,240 184
Oceania 100 1,039 0
European 21 1,076 0
Unknown 182 695 0
Totals 21,267 163,013 1,467
To check the rules on what food products you can and cannot bring into the UK, please visit: www.direct.gov.uk/dontbringmeback.
It is against the law to bring any meat and dairy products into the UK from countries outside the EU, even for your own personal use.  Restrictions also apply to other food products, including fish, shellfish, honey, eggs and egg products, fruits and vegetables.  The rules apply to any products brought in personal luggage or sent by post (including those ordered online).  These products have the potential to bring diseases and pests that can have a devastating effect on farming.  Some products may also contain residues or contaminants that harm human or public health.
The Review recognises the joint efforts made during the year by Defra, UKBA, the FSA, Animal Health and the Devolved Administrations in Scotland, Wales and Northern Ireland to reduce the risk of disease entering the UK via imports of animal products.
Seizures by enforcement agencies include those made by UKBA at GB points of entry, those made by Department of Agriculture and Rural Development for Northern Ireland (DARDNI) at points of entry in NI and those made by inland Local/Port Health Authorities, with the vast majority (99 per cent) continuing to be made by UKBA.
Published 22 July 2010