Djanogly: Reform to solicitors to give UK consumers greater choice
UK consumers and businesses will find solicitors' more competitive, more accessible and more efficient following reforms to legal services.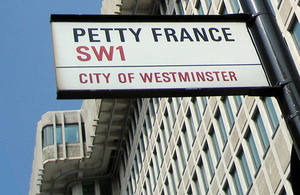 From today, radical reforms to the legal sector are being accelerated by the addition of the Solicitors Regulation Authority to the licensing authorities for the new Alternative Business Structures (ABSs).
ABSs remove existing restrictions on legal firms allowing them to offer more competitive services to customers by joining up with other businesses, such as high street shops, banks and supermarkets, to offer legal services alongside other products.
Solicitors who want to take advantage of the new systems can apply to the Solicitors Regulation Authority to be licensed to work as an ABS, providing choice for consumers in how and where they access legal services.
Justice Minister Jonathan Djanogly MP said:
'The addition of the Solicitors Regulation Authority marks another major milestone for UK legal services and the future of Alternative Business Structures.
'Our UK legal services are unrivalled around the world and these changes will allow them to reach new heights, as solicitors' firms develop new markets, join up with other businesses to offer different products and provide opportunities for growth.
'Customers will find legal services more accessible, providing a much more competitive and efficient service.'
ABSs started operating in October for conveyancing lawyers, licensed by the Council for Licensed Conveyancers. Today's addition of the much-larger SRA means thousands more firms will be able to take advantage of the new systems.
Alongside benefits to consumers ABSs will also provide opportunities for growth by allowing legal firms to explore new business markets abroad. Legal firms will be able to get outside investment for the first time, with greater opportunities for international investment into the UK legal services sector.
ABSs is one of a number of initiatives the Government is undertaking to enhance the UK's position as a centre of legal excellence including:
the opening of the new Rolls Building, the modern and purpose built home for the Commercial Court and the Technology and Construction Court with a focus on commercial dispute resolution through mediation and arbitration and further the interests of the UK's legal businesses; and
an Action Plan outlining how Government will help UK legal services expand into new markets.
Notes to Editors
For more information please contact Ministry of Justice Press Office, 020 3334 3521.

From October 2011 the Council for Licensed Conveyancers have been designated as a licensing authority to issue licenses to firms that meet the criteria to operate as an alternative business structure.

The Legal Services Board will oversee the regulation of firms and the Legal Ombudsman will provide a complaints service. Both were set up in 2010 in preparation for the introduction of the new structures to ensure confidence in ABSs and provide support to consumers and businesses should the feel they need it.
Published 3 January 2012