Disasters: Rapid response network ready if crises hit
Britain is setting up a network of top businesses and charities to respond when large scale emergencies hit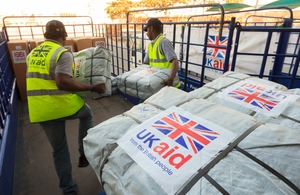 Britain is to establish a new rapid response network of top UK-based businesses and charities to provide emergency relief when major international crises hit - such as floods, famines and earthquakes.
The network, called the Rapid Response Facility, will mobilise life-saving support in the critical hours following a humanitarian disaster, Andrew Mitchell said today.
It is the first time a British government has brought together the power of the private sector as well as non-governmental organisations in this way to take part in emergency relief.
Following a disaster, supplies, experts and vital aid are too often tied up with paperwork, rather than being immediately deployed.
The new facility allows organisations with extensive experience in disaster response to access funding within hours, thereby reaching affected people faster and saving more lives. It will mean the best organisations from across the UK can be mobilised in the critical first 72 hours following a disaster.
So far, 34 organisations have been approved. They include large organisations like Christian Aid, Guava International (Land Rover), Mercy Corps and Oxfam.
Specialist organisations are also included, such as the medical relief experts Merlin, water purifiers Lifesaver Systems and mapping volunteers MapAction.
The facility will see greater collaboration than ever before between government, charities and business, to ensure the British response is effectively coordinated.
A real-time disaster planning exercise at the Department for International Development has tested how the new facility would get help to affected people quickly and effectively.
The new Rapid Response Facility will be activated in the event of a large scale humanitarian crisis. The selected organisations will be approached within hours and expected to take immediate action to deliver targeted aid to affected people.
International Development Secretary Andrew Mitchell said:
We need our best experts, equipment and aid on the ground quickly after a disaster, not tied up in red tape. They need to be able to do their job in the vital window of 72 hours, to save as many lives as possible.

These organisations represent the very best performing disaster response agencies. They will deliver value for money for British taxpayers, and results that best benefit affected people. This allows them to focus on delivery, not paperwork.

The private sector plays a vital role in emergency response and I am particularly encouraged that so many have already agreed to be involved in the Rapid Response Facility.
To ensure the continuing high performance of the facility, pre-qualification can be revoked at the first sign of poor performance.
The Rapid Response Facility delivers on the Government's commitment to have a pre-qualification process focused on delivery, not bureaucracy, in response to Lord Ashdown's review of how Britain responds to humanitarian emergencies.
The organisations approved include: (click on the name to go to their website)
Action Against Hunger GOAL Mine Advisory Group
ActionAid Handicap International Osprey Plastics
AST Systems HelpAge International Oxfam
British Red Cross International Medical Corps Pump International
Butyl International Rescue Committee Reltex
CAFOD Islamic Relief Save the Children
Care International Guava International (Land Rover) ShelterBox
Lifesaver Systems Spectrum Biosecure
MapAction Standard Chartered Bank
Concern Mercy Corps Scotland Tearfund
Evenproducts Merlin Toughstuff
Published 7 March 2012