Disasters: New technology fund for humanitarian innovation
The UK will set up a new fund to back mobile, text and other innovative technologies which can be used to help those hit by humanitarian crises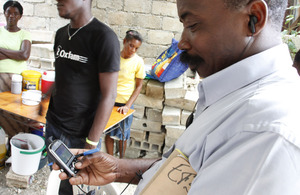 The UK will set up a new fund to back mobile, text and other innovative technologies which can be used to help those hit by humanitarian crises - such as earthquakes, floods or drought.
The new initiative, announced today by International Development Secretary Justine Greening, has been created with the US Government and will be used to scale up existing projects and processes that use technology or innovation to support humanitarian responses across the world.
Justine Greening said:
New technology has the power to transform our response to humanitarian crises.

We are already trialling the use of mobile phone apps, text alerts and GPS technology in humanitarian crises. The more focused and effective our response to disasters, the more quickly people can rebuild their homes and their lives and the further our money will stretch.

This new fund will find the technologies and innovations that work best and scale them up so they can be used across the world.
The fund will invest up to £9.5 million ($15 million) in projects that have already been successfully tested at scale. Projects still at the pilot scale can apply for grants of up to £630,000 ($1 million). The UK is contributing £2.6m to the Development Innovation Ventures Humanitarian Initiative.
The fund will support the scale-up of technologies which are designed to improve disaster responses, such as:
Improving the design of temporary shelters and the provision other services to meet victims' basic needs during an emergency. For example, the fund could support projects such as the 'disaster wheelchair' a rugged, flexible wheelchair specially designed for disaster zones by Motivation and Handicap International with support from the DFID-backed Humanitarian Innovation Fund
Better ways of managing information in emergencies to ensure aid reaches those in greatest need and help people hold us to account if it does not get there. Types of projects could include a recent UK-funded mobile phone service which uses Interactive Voice Response (IVR) technology to allow victims of the Haiti earthquake decide for themselves what information and help they need. In the first two months the service received 300,000 calls
Better ways of reducing the risk of disasters by giving communities better information about impending risk, and better design of housing in flood or earthquake prone areas. For example, a recent UK-funded GPRS weather warning system is already helping 3,000 fishermen install early warning systems on their boats to help them avoid severe storms or tsunamis.
The Development Innovation Ventures Humanitarian Initiative is funded by the UK's Department for International Development (DFID) and USAID, and run through USAID's Development Innovation Ventures (DIV) programme.
DFID and USAID encourage entrepreneurs, innovators, businesses, academics, NGOs, local partners and others to submit proposals for cost-saving development solutions in the humanitarian sector. Proposals can be both for technologies and physical products, as well as process innovations.
The flexible wheelchair, IVR mobile phone system in Haiti and GPRS early warning system are all projects backed by the Humanitarian Innovation Fund.
Published 21 February 2013