Press release
Disability fitness instructor programme wins Prime Minister's Big Society Award
One year on from the start of the London Paralympic Games, InstructAbility has been recognised by PM David Cameron with a Big Society Award.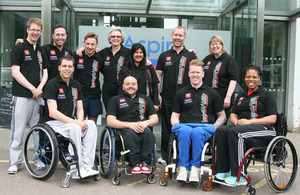 The InstructAbility programme, providing free fitness industry training for disabled people, offers participants the chance to gain a Level 2 gym instructor qualification and gives support to find employment within the fitness industry. More than 40% of graduates have gone on to get jobs as fitness professionals. Once qualified, instructors undertake a voluntary placement in the industry where they work to encourage more disabled people to get active, making them feel welcome in gyms and sports clubs.
Successful graduates of the programme include individuals with spinal cord injury, spina bifida, cerebral palsy, limb loss, visual impairment, post-traumatic stress, depression and loss of function caused by stroke, brain injury, osteoarthritis and other conditions affecting skeletal and neuromuscular function.
InstructAbility is the brainchild of Aspire, a leading national charity supporting people with spinal cord injuries and YMCAfit, the leading fitness industry training provider. Driven by a desire to help provide a lasting legacy from the 2012 Paralympics by tackling the under representation of disabled people in the fitness industry, both organisations joined forces over 3 years ago to design and deliver the programme.
Since the 1st pilot course in September 2010:
54 disabled people have qualified as gym instructors, with a further 10 currently in training
29 instructors have so far completed industry placements
14 instructors have been offered employment
6 courses have been launched this year with a further 30 courses scheduled across England following an £854,000 grant from Sport England
Prime Minister David Cameron said:
This time last year we were celebrating the start of the greatest Paralympic Games ever. Today I'm delighted to be recognising the work of a programme which is doing so much to secure the games' lasting legacy.

InstructAbility is encouraging more talented people with a disability to work in the fitness industry and creating the role models that will inspire others to get active.
Brian Carlin, Chief Executive of Aspire said:
We hope this award will raise the profile of the project and encourage more disabled people to take up opportunities to get involved either as gym users or as instructors. We firmly believe that the way to ensure society becomes more inclusive is to ensure there is equality in service delivery as well as service use.
Denise Page, Head of YMCAfit said:
We are delighted by this award as it recognises the fact that disabled fitness instructors have a lot to offer the fitness industry. Employers are beginning to recognise that a disability does not affect professionalism or skill set. Disabled instructors often have a better understanding of how difficult it is to overcome barriers to improve health and fitness. They often have an enhanced level of empathy when working with clients.
In 2012 the InstructAbility programme was awarded the prestigious Inspired by London 2012 mark and gained the Spark of Innovation award by the Fitness Industry Association.
Notes to editors
For further information on the programme, case studies and imagery, please contact Hilary Farmiloe, InstructAbility National Project Manager, Aspire: 07917 822977
InstructAbility
Aspire and YMCAfit funded a pilot project with subsequent courses funded by The Mayors Legacy Fund. Sport England is currently funding a 3-year plan to deliver 36 courses across London, South Eastern, Midlands, Eastern and Northern regions.
Aspire
Aspire is a national charity that provides practical help to people who have been paralysed by spinal cord injuries. Every 8 hours in the UK someone is paralysed by a spinal cord injury. For more information about our core services including Aspire Housing, Assistive Technology, Independent Living Advisors and our Human Needs Fund, visit http://www.aspire.org.uk.
YMCAfit
YMCAfit is one the UK's leading training providers in the field of exercise, fitness and activity for health; driven by the belief that everyone in society is entitled to the health benefits of regular physical activity. It is part of Central YMCA whose mission is to change health attitudes and behaviour through advocacy, education and direct delivery. For more information visit www.ymcafit.org.uk.
On the Big Society Awards
The Big Society Awards were set up by the Prime Minister in November 2010. The aim is to acknowledge individuals and organisations across the UK that demonstrates the Big Society in their work or activities. In so doing, the aim is also to galvanise others to follow.
The award focuses upon 3 specific areas:
Outstanding contribution to community
People, projects and organisations that enable communities to drive change themselves
Projects and organisations that allow the community to identify solutions
People, projects and organisations that inspire others to contribute to their community
Improving lives and society through innovation, collaboration and new partnerships
People and organisations taking new approaches to public services
Successful collaboration and partnerships between public, private and voluntary sector - working together to benefit communities
Engaging in social action
People, projects and organisations taking action in their community
Working together for social change (e.g. through creating groups, campaigns, movements)
Generosity of time, money, skills and other resources – in support of social action
Launching the awards, the Prime Minister said:
There are some amazing projects and remarkable voluntary work going on in towns and cities up and down the country, by all kinds of organisations from large enterprises to tiny grassroots schemes and inspirational individuals.

These awards are a chance to pay tribute to those making a valuable contribution to their community, the real champions of the Big Society, but perhaps more importantly, I hope they will motivate many others to take action, get involved and drive change in their area.
Nominations come in from the general public after which there follows a process of scoring and short-listing by civil servants and a further short-listing by a panel of ministers and independent external experts. This Panel makes recommendations to the Prime Minister who makes the final decisions about who to make the award to. 12 winners are decided each quarter meeting and then announced once a week throughout the year.
Big Society Awards - Inspired by 2012: Keeping the Olympic Flame Burning across the UK
The Olympic and Paralympic Games last summer enthralled the nation and inspired more than 70,000 people to volunteer their time and energy. Since then, people have engaged with their local sports clubs, tried a new sport, implemented community initiatives and ignited whole towns and villages to commit to keeping the spirit of 2012 alive.
To celebrate the anniversary of the 2012 Games, a number of awards will be announced for innovative groups, individuals and organisations whose work exemplifies the Big Society and whose Olympic-style achievements are making a real difference in communities.
For more information: http://www.bigsocietyawards.org Enquiries: Lucy Windmill 07795445197
More than 80 Big Society Award winners have been announced to date, including:
Outward Volunteer Club Outward Volunteer Club is a group of volunteers with learning disabilities and mobility issues who have been transforming run-down community areas in Olympic boroughs.
Multiple Sclerosis Therapy Centre
Multiple Sclerosis Therapy Centre provides a therapeutic service to multiple sclerosis sufferers. As an organisation run by people with MS for people with MS, they are in a unique position to really understand the on-going needs and support that can help people make the most of their lives within the confines of the condition.
Community Action Through Sport Promoting, recognising and rewarding all young people for positive community action with sports based awards.
Wotton under Edge swimming pool In their first year (2011) overall use of the pool was estimated to have increased by 89% on the previous year. Users include the local schools, a triathlon club, mums and babies. The site continues to provide employment for local young people, offers swimming lessons and has seen twelve lifeguards receive trained.
AFC Wimbledon AFC Wimbledon is a professional Football League Two club, which is currently celebrating its 10-year anniversary. The club is still owned by its supporters via the one-fan, one-vote Dons Trust. Since formation, the club's officials, supporters and 300 volunteers have organised a number of community initiatives.
For a full list of winners visit http://www.bigsocietyawards.org
Published 29 August 2013