News story
Direct talks between Israel and the Palestinians
Foreign Secretary William Hague welcomes talks and calls on leaders to show "perseverance, commitment and courage" in pursuit of peace.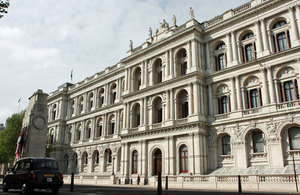 Speaking at a joint Press Conference today with the German Foreign Minister, Guido Westerwelle, William Hague emphasised the "historic importance" of the move to direct talks.
Reiterating that the UK stood ready to "do everything we can to buttress those talks" the Foreign Secretary said "the parties involved will need to show commitment and courage to achieve the lasting peace that both sides deserve and we support them fully in that effort".
He went on to add:
''We welcome the direct talks between Israel and the Palestinians beginning today. We look to Prime Minister Netanyahu and President Abbas to show the perseverance, commitment and courage needed to achieve a sovereign, viable and contiguous Palestinian state living in peace and security alongside a safe and secure Israel and their other neighbours in the region''.
This follows the US President Barack Obama's statement yesterday where he said:
"The status quo is unsustainable, for Israelis, for Palestinians, for the region and for the world. It is in the national interests of all those involved, including the US that this conflict be brought to a peaceful conclusion"
Published 2 September 2010