Press release
Digital services framework has opened the door to new suppliers
More than a third of companies on a new procurement framework for building digital public services have never worked with government before.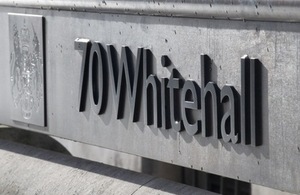 The 183 suppliers that have won the opportunity to secure contracts with central government also include a high proportion – 84% – of SMEs. Of the 70 suppliers new to government, 94% are SMEs.
The new framework has been developed to give government easy access to suppliers of all sizes with the right digital capability to help them design and build public services that are digital by default and focused on user needs. It aims to provide sufficient supplier capacity to enable the delivery of digital projects at multiple UK locations and directly supports the Government Digital Strategy.
The Digital Services framework has been put together by Government Procurement Service (GPS) and Government Digital Service (GDS). It will be offered as a managed service to central government departments – the first time this has been done – allowing GDS and GPS to share experience across departments and ensure best practice.
Francis Maude, Minister for the Cabinet Office, said:
We want to have a highly competitive market for government business, access to innovation, and to drive growth by working with businesses of all sizes. That's how we will deliver world-leading digital public services and build a stronger economy.
The Digital Services framework shows how we are levelling the playing field for government contracts and living up to our ambition to support growth by giving opportunities to new entrants and smaller suppliers who can deliver innovative, cost-effective solutions based on user need.
Mike Bracken, director of Government Digital Service, said:
To deliver the efficient and responsive services that the public demands, government must have access to the best, most cost-effective digital solutions. The Digital Services framework will be a flexible and speedy route for departments to the digital project expertise they need to transform their services.

Whether this is entire digital delivery teams or individual specialists, the focus will always be on providing what the user needs.
Bill Crothers, Government Chief Procurement Officer, said:
SMEs are a key driver for our economic growth, but in the past it was far too difficult for them to win business with government because of unnecessary and bureaucratic procurement procedures. That's why we have reformed how government buys public services and streamlined the procurement process to make sure we're attracting the most competitive, innovative suppliers, including SMEs.

The impact of these changes is reflected in the positive response to the Digital Services framework and the numbers of smaller firms and suppliers new to government that have won places on it.
Published 12 November 2013