DFID research: Two new reports from Panos London's Relay Programme
Two new reports from Panos London's Relay Programme.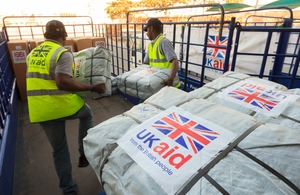 Reporting health research: Connecting journalists and TB researchers in Zambia
A new case study launched by Panos London shows that media coverage of tuberculosis (TB) in Zambia can be improved by bringing journalists and researchers together to tackle the misconceptions and awareness around the disease.
The case study 'Reporting health research: Connecting journalists and TB researchers in Zambia', shares some of the outcomes and lessons learned from a joint initiative between Panos London's Relay programme and TARGETS, a research programme consortium. The initiative brought together journalists, editors and health researchers to discuss the barriers to reporting and promoting public debate on TB. These included stigma around TB transmission, lack of access for journalists to reliable information and limited support from editors for health stories. Health researchers then acted as expert advisors to journalists who produced a series of national newspaper articles and radio programmes on both national and community radio.
Zambia has been reported as having the 10th highest TB incidence rate in the world (193 cases per 100,000 members of the population) and one of the highest rates of HIV infection in Africa, at 15% according to the United States Agency for International Development (USAID 2009). Misconceptions about the disease transmission and the link between TB and HIV infection has fuelled social stigma which can make people reluctant to disclose their status and less likely to seek treatment.
Panos London Executive Director, Mark Wilson said: "Evidence has shown that there is limited access to accurate information and knowledge about TB in Zambia. Media interventions can support accurate and informed reporting around TB that provides the missing links in knowledge and create debate on health issues. More importantly, informed and sensitive reporting can challenge misconceptions which can influence health behaviour positively and reduce the stigma associated with TB."
Relay's programme manager, Annie Hoban said: "Our workshops revealed that there is mistrust and fear between journalists and researchers but they recognised that there is real value in each other's expertise and it was mutually beneficial for them to work together. There have already been great outcomes through this initiative. Four articles and five radio programmes were produced as a result, reaching more than 500,000 people combined. This case study shows a great deal can be achieved when journalists and researchers work together, and it's an approach which can be applied to public health reporting in general."
New review of Relay programme learning: building media's capacity to report research
An independent review of the Relay programme took place between October 2010 and February 2011 and included field visits to five programme focus countries - Uganda, Kenya, Malawi, Zambia and India - and over 60 interviews with project staff and beneficiaries.
The purpose of the review, which was carried out by ITAD, was to identify, synthesise and share the knowledge of the Panos Relay team and their partners after five years of project implementation to build the media's capacity to report research.
The resulting synthesis report offers insights about how to work with project team staff and beneficiaries to articulate and better understand project logic and interventions through the use of participatory evaluation tools including problem trees, force fields, stakeholder analysis and most importantly, a theory of change.
It also highlights the varied and nuanced ways in which media coverage might have affects in the 'real world' such as feedback from readers, further media coverage, take-up of stories in mainstream media, stimulation of lobby activity, and changes in the way governments talk about an issue.
The report corroborates programme findings that work to build the skills of journalist and research and build new relationships between them, including breaking down negative stereotypes, can lead to improved capacity of media to report research and new media content that draws on research as a source to talk about critical development issues.
Finally, the report suggests a way forward for strengthening monitoring and evaluation in this and other research uptake capacity building programmes by showing the value of involving programme staff and beneficiaries in developing project logic and indicators of success, focusing on boundary partners directly reached by the project as central to determining and being part of the changes that take place. In doing so, the findings of the report should be of interest to other research, media and research uptake organisations.
New website
Panos London recently launched a new website to offer practical information for researchers to communicate their findings and for journalists to engage with development research. The website offers resources, guides, case studies, reports, updates and monthly blogs for those interested in working with the media to report research. A key aim is to share learning and results from Panos London's Relay programme and to highlight examples of exciting work in the field of reporting research.
Published 29 July 2011