News story
DFID Research: The global rise of TB exposed in a new film
A new four part series, released by Aeras, illustrates the very real and urgent fight against new drug resistant forms of TB.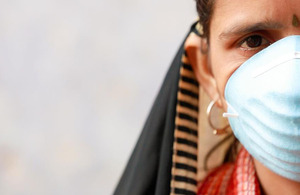 Ninety years ago saw the first vaccine. Thirty years later and the first effective antibiotic was discovered. Yet tuberculosis remains a major cause of death worldwide, second only to HIV and AIDS. In 2006, TB claimed 1.7 million lives and over 9.0 million new cases were recorded.
The AERAS Global TB Vaccine Foundation (Aeras) is a non-profit product development organization dedicated to the development of effective tuberculosis (TB) vaccines and biologics to prevent TB across all age groups in an affordable and sustainable manner. Supported by the Department for International Development (DFID), Aeras works with numerous partners and stakeholders to support the development of vaccines and other biopharmaceuticals to address TB and other significant public health needs of under-served populations.
One of the leading causes of infectious disease deaths globally, TB disproportionately affects the poorest in the developing world, with significant economic and social implications. Co-infection with HIV and an increase in drug-resistant strains of TB are adding to the severity and complexity of the situation.
While more than 15 vaccines have been trialed since 2005, the need for collaboration and investment is still critical. TB still presents a real and pressing danger to the developing world as the number of people with drug resistant TB continues to rise.
In a new 4 part series, Aeras, outlines the progression and effects of the global epidemic. EXPOSED focuses on current efforts to halt this airborne disease, which is growing more difficult to address, as well as the urgent movement to develop new tools to prevent it.
Telling the stories of four individuals who have been directly involved with TB, either as a sufferer or a researcher or medical professional, the series provides an insight into the debilitating effects of the disease at individual and societal levels, framed by expert commentary from some of the world's top TB physicians, scientists, advocates and policymakers.
Aeras identifies itself as a catalyst, investing in the world's most promising TB vaccine candidates and bringing together a community of scientists, governments and investors focused around one mission; the development of an effective TB vaccine.
These films, developed in partnership with filmmaker Mo Scarpelli of RAKE FILMS and with support from GATHER, serve to build on this network. Multi-Drug Resistant TB is still little discussed outside the TB research community; this series aims to bring it to the forefront of discussions- emphasising that the need is now.
To learn more about the continuing research being undertaken by Aeras visit their website. To arrange a screening of the series EXPOSED, contact jrosen@aeras.org.
Published 11 April 2013