DFID research: Testing the effectiveness of economic interventions on girls and women
New systematic review looks at the impact of economic interventions for girls and young women in low-and-lower middle-income countries.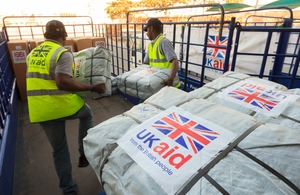 A systematic review has recently been published which looks at the impact of economic interventions for girls and young women in low-and-lower middle-income countries.
Commissioned by DFID, the review has found that, although there is a modest but growing evidence base that suggests that providing girls and women with access to economic assets and developing their skills can improve their ability to generate an income, increase the amount they save, support school participation and increase overall sexual health knowledge, evidence suggests that this will do little to improve their overall economic standing. The review, concluded that there was no evidence that livelihood, educational and sexual health interventions lead to better further educational, career choice or  long-term sexual health outcomes as adults.
DFID commissioned a range of reviews on the effectiveness of economic interventions being delivered in low-and lower middle-income countries, and fragile states. A fragile state has been defined by DFID as a country that lacks capacity and/or willingness to deliver core services to the population, especially the poor (DFID 2005).
The study was conducted by staff from the Social Science Research Unit's Evidence for Policy and Practice Information and Coordinating Centre (EPPI-Centre), based at the University of London's Institute of Education.
After scoping relevant studies that provided evidence on the effectiveness of economic interventions the review team went on to synthesize and appraise all the information they uncovered as it relates to girls and young women, ranging between 10 - 24 years of age. Eighteen relevant studies were identified and explored in-depth to verify whether the evidence supported the hypothesis that supporting access to economic assets for females at an early age increased their chances of moving out of poverty and increased their ability to participate in economic growth in adulthood.
Three types of economic asset intervention were focused on:
1)      Educational incentives
2)      Livelihood Programmes
3)      Reproductive Health Programmes
Interestingly enough, studies on the impact of programmes on educational outcomes showed that although there are positive findings for young women's school participation, educational incentive programmes can actually have a negative impact on boys' participation in school.  Additionally, evidence from four studies suggested that livelihood and reproductive health programmes can improve young women's knowledge and attitudes about STIs and protecting oneself from unwanted pregnancy.
However, despite the changes in attitude and knowledge, there is no evidence that these interventions increase young women's condom and contraceptive use. This indicates that although some evidence suggests that young women will exercise more power in their sexual relationships due to increased reproductive health awareness, there is no definitive evidence to support this.
Despite the limited rigorous evidence that exists to support economic interventions that specifically target young girls and women there has been increased support from the international development community to address the challenges that exist in the lives of young girls and young women. Plan International's Because I Am A Girl campaign conceptualizes each stage of a girl's life as an opportunity to protect and build assets by investing in herself socially, psychologically, legally, educationally and economically.
This review highlights the need for further high quality research that enables better monitoring, evaluation and assessment of the impact of economic asset-building programme interventions. These studies will need to be long term in order to assess the extent to which these outcomes are maintained or improved in adulthood.
Visit the Research for Development (R4D) database for full review.
Published 22 October 2012