News story
DFID Research: Research for Health in Humanitarian Crises- First call now open
Launched in June of this year, the Research for Health in Humanitarian Crises Programme is now looking for expressions of interest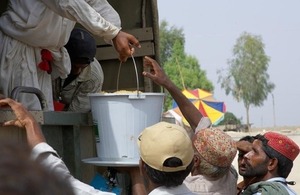 The Research for Health in Humanitarian Crises (R2HC) programme is now open to Expressions of Interest for its First Call for Proposals via its website.
The R2HC programme aims to improve health outcomes by strengthening the evidence base for public health interventions in humanitarian crises. Launched in June 2013, it is the product of a strategic partnership between the Department for International Development (DFID) and the Wellcome Trust, with the Enhancing Learning and Research for Humanitarian Assistance programme (ELRHA) overseeing the programme's execution and management.
During the launch at the Wellcome Trust in June, Daniel Davies, the R2HC Programme Manager, presented a summary of the first call for proposals. A video of his presentation can be found here.
A total of up to £3 million is available under the First Call to support research that will strengthen the evidence base for effective public health interventions in humanitarian crises. Guidelines for applicants and other background documents are available on the R2HC website.
Expressions of Interest must be submitted online in accordance with the instructions provided, by 10 September 2013. A limited number of applicants will be invited subsequently to develop a Full Application.
More information on the programme and its objectives can be found here.
Further enquiries regarding the R2HC programme should be directed to Daniel Davies, R2HC Programme Manager via r2hc@elrha.org.
Published 9 August 2013