DFID research: Research call - the Brazilian development model for Africa: evidence and lessons
DFID is inviting applications for a new research programme which looks specifically at Brazilian development in relation to Africa.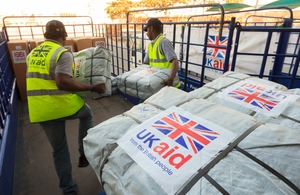 An estimated750 million people from across the globe watched the Olympic flag being handed to Eduardo Paes, the Mayor of Rio de Janeiro, at the London 2012 closing ceremony on the 12th August. As the world anticipates the carnival of the century in 2016, Brazil is already making an impact on the global stage in other ways.
A 2011 report by the World Bank placed Brazil within the top six emerging economies in the world, who together, the report predicts, will account for more than half of all global growth by 2025. With such strident progress in Brazilian development, DFID is calling for research into how lessons can be learned and adapted for Low Income Countries (LICs) outside South America.
DFID is now launching a new research call which looks specifically at Brazilian development in relation to Africa. The Brazilian Development Model for Africa: Evidence and Lessons aims to address the gap in knowledge on the transferability of Brazil's model of economic development. Seeking innovative approaches, DFID is inviting applications from a service provider or a group of organisations to carry out systematic research into identifying key lessons within the model of economic development in Brazil which can be practically applied in DFID's focus countries in Africa.
The research programme will be focused around four core areas.
1.      Agriculture
2.      Institutions
3.      Social programmes
4.      Economic spheres
The contract is scheduled to start on the 1st January 2013 and will be a two phase project planned across three years. The first phase will produce 15 research papers as well as a detailed work strategy for phase two. A main target of the research is to influence policy debates in Africa, and to encourage the inclusion of the Brazilian development model in discussions of actionable adaptive strategies.
This is the first of three initiatives to be commissioned by DFID designed to evaluate evidence gathered from emergent economies in order to establish development strategies for LICs. Alongside ongoing projects such as Evidence and Lessons from Latin America (ELLA) which works to collate and synthesise research from across the continent for use in development institutions in Africa and Asia, this new research programme reflects the drive in development research to harness the lessons which these emergent powers can teach other nations.
The Brazilian Development Model for Africa: Evidence and lessons will have a strong practical focus, looking at specific parallels between socio economic groups and geographic regions in Brazil and Africa.  
The deadline for applications is Monday 29 October, 2012.
A pre-bid meeting is scheduled to take place at DFID London offices on Thursday 20th September at 3.00-5.00pm. Contact c-walters@dfid.gov.uk for further information.
Published 24 August 2012