News story
DFID Research: Providing skills for future employment in Bangladesh
Shiree, a DFID funded initiative, has been working in partnership to improve training and job opportunities in North Bengal.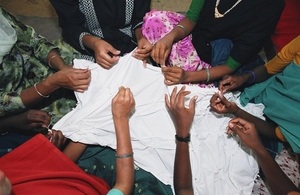 People from rural Gazipur and remote North Bengal, Bangladesh's poorest region, are now being employed in the ready-made garments sector after completing a 3 month skills training programme. The project is a partnership between Far East Knitting & Dyeing Industries, IDLC Finance, the ILO TVET Reform Project, Gazipur Technical School and College, Care Bangladesh and Shiree.
North Bengal is a region of picturesque wetlands and the lowest per capita incomes in Bangladesh. Primarily an agricultural area, every year thousands of people lose their homes and their livelihoods due to floods in the many low-lying districts. The Skills Development and Sustainable Livelihood Generation Project will provide training and jobs to people from this region for the next 2 years. After a 3 month training period and subsequent skills assessment, trainees will be certified and employed as Junior Machine Operators in local readymade garments factories.
The first batch of 22 people graduated from the programme early in October, and the second batch of 26 people are already undergoing training.
Bangladesh has made great progress in recent years. It is fortunate to have a young, dynamic work force. Giving them the skills for future employment will be a key to Bangladesh's success. The TVET Reform Project is making that happen, through changing the way that skills development works and encouraging initiatives such as these.
said William Hanna, EU Ambassador to Bangladesh.
The project was conceptualised by the IDLC and the ILO and based on a learning and earning model developed by the ILO TVET Reform Project (funded by the European Union). The same model is also being used in Chittagong Women's Polytechnic Institute, and 5 more institutions in the wider Dhaka region will begin using it by the end of 2013. The project is jointly being funded by Fareast and IDLC. Gazipur Technical School and College, under the Directorate of Technical Education, Government of Bangladesh, is providing the training. CARE Bangladesh and Shiree are sourcing participants from North Bengal.
The Shiree / Economic Empowerment of the Poorest (EEP) project is a Department for International Development and Government of Bangladesh supported Challenge Fund specifically working with the extreme poor in Bangladesh. It currently funds 36 different projects (through 33 NGOs), the portfolio of which is diverse: targeting a variety of vulnerable populations in distinct pockets of extreme poverty across the country.
The Extreme Poverty Research Group (EPRG) develops and disseminates knowledge about the nature of extreme poverty and the effectiveness of measures to address it. It initiates and oversees research, acts as a learning and sharing mechanism, and assists in the translation of learning into advocacy.
Published 21 October 2013