News story
DFID Research: New chickpeas set to increase food security
A draft genome sequence of chickpeas, developed by scientists from the Generation Challenge Programme, is predicted to have huge benefits for the developing world.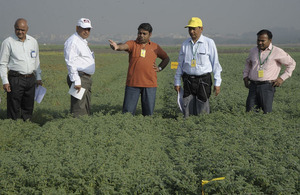 Chickpeas are the world's second most widely grown legumes, providing protein and acting as a staple food in the developing world. Known as the 'orphan crop' due to their narrow genetic base, farmers have been forced to plant low yielding varieties as there were no other options available to them, until now. Scientists from the Generation Challenge Programme (GCP) have successfully completed the draft genome sequence of chickpeas.
A study carried out by 49 scientists from 23 organisations in 10 countries, has successfully mapped a draft genome sequence of 90 cultivated and wild chickpea genotypes. The mapping was carried out in 10 countries and has implications for the increase of chickpea productivity worldwide.
The GCP is a 10 year programme funded by the Department for International Development (DFID), created in 2003 with the goal of adding value to crop breeding, targeting farmers in drought-prone marginal environments. The implications of the genome mapping of chickpeas are immense. Findings from this study are set to transform chickpea production in semi-arid environments with poor soils, poor agricultural infrastructure and limited access to irrigation and fertilisers.
The benefits to chickpea productivity are great, especially against the backdrop of climate change in the developing world. The study is set to improve modern breeding of chickpeas. Research revealed more than 28 000 chickpea genes, which together with an array of genotypes will provide millions of genetic markers. This will help to illuminate the evolution and domestication of chickpeas by identifying the gene families that have important traits that may enhance other legumes.
The project came together in July 2010 at the fifth International Conference on Legume Genetics and Genomics in Asilomar, USA. The team was led by Dr. Rajee K. Varshney, GCP's Comparative and Applied Genomics Theme Leader, coordinator of the International Chickpea Genome Sequencing Consortium (ICGSC) and Director of the Center of Excellence in Genomics at the International Crops Research Institute for the Semi-Arid Tropics (ICRISAT).
The research is set to provide a framework to systematically apply DNA sequence-based approaches, resulting in a more predictive science of chickpea breeding. The benefits to chickpea genome sequencing go beyond the increase of chickpea yields. Chickpeas enhance the health of soil, by fixing nitrogen, and adding organic matter which means that farmers can intercrop chickpeas with other crops such as cereals, helping reduce costs associated fertiliser use.
Countries like India are set to benefit significantly as they are the largest producer of chickpeas. Genome sequencing data will improve chickpea yields and assist farmers in resource-poor communities. This will lead to increased food security, higher income and a better standard of living.
Published 5 April 2013