News story
DFID Research: Mobiles for Development
A new E-Learning Course offers insights into Mobile Technology for Development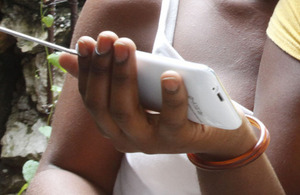 In a world where more people have access to cell phones than clean water, the potential for harnessing mobile phones to tackle development issues is immense. The Indian Institute of Technology Kanpur in partnership with the Commonwealth of Learning have introduced a 6 week Mobiles for Development Course.
The course will focus on the benefits that mobile communication and computing technologies have had on sectors such as agriculture, food production, rural credit and finance. Set to commence early in October, the course will allow all interested development practitioners, mobile tech developers and other interested parties to register online, free of charge. There are no pre-requisites for registration in this course and all interested individuals are encouraged to register.
The course will focus on two thematic areas, namely:
Core technology topics
Specialised modules related to human development. Learners can select one or more of the three specialisation areas:

Education/m-learning
Rural banking and finance
Agricultural Extension
Participants who successfully complete the course will receive Certificates of Participation jointly issued by the Indian Institute of Technology Kanpur and Commonwealth of Learning. The successful learner should end the course with the ability to recognize frequently used terminology and techniques in mobile computing and communications as they relate to development. In addition, learners will be given the opportunity to learn and thereby recount cases where mobile technology has successfully been implemented in development, as well as, recognize common policy requirements for the support of mobiles in education, agricultural extension, and rural credit and finance.
Mobile technology has successfully been used to improve Health and Data Service Management in post-conflict settings. A report published by DFID in October 2012 highlighted the use of mobile phone technology in areas such as information management, drug distribution and Human resource management: connecting community-based health workers to medical advice, guidelines and training.
In Bangladesh mobile technology has been utilized to support the English in Action Initiative that aims to change the way that English is acquired by children, young people and adults in Bangladesh.
As opportunities to better development through mobile technology and innovation continue to arise, the Indian Institute of Technology Kanpur is a premier research university that is pioneering numerous advances in mobile technologies and their applications. The Commonwealth of Learning is an inter-governmental organisation that advocates improving access to learning at all levels.
Individuals interested in registering in this 'Mobiles for Development' e-learning course can do so here.
Published 4 October 2013